Google abandons Search
Swaps Hive Mind for nevermind
How noise defeated the cleverest engineers on Earth
Since 2005 Google has relied heavily on Wikipedia to mask the flaws introduced by its inability to deal with noise. The thinking behind this is that the typical punter just wants to know something quickly, and Wikipedia will give them a rough and ready answer, and links for further reading. It may as well have hardwired Wikipedia to the "I'm Feeling Lucky" button.
But the onslaught of Web2.0rhea - the relentless real-time noise exemplified by Twitter - appears to be the straw that finally broke the camel's back. This is really quite something. Twitter remains a fairly minor social network, with only half as many active users as the most popular Facebook application, and it wouldn't get into a Facebook App Top 10 - yet it was enough to prompt Google to inject a live self-updating feed of real-time garbage into its once-hallowed SERPS.
(The No.1 Facebook App is Farmville, if you're interested, with 69 million active users a month. No, I didn't know that either.)
T-shirt alert
It's no coincidence, and you couldn't really get a clearer expression of "We've Given Up".
Years ago we mused that it was the lack of specificity that would ultimately doom Google. It had set itself a mission to collect and organise the world's information. But most of this wasn't worth collecting - and Google just wasn't clever enough to differentiate between good and bad, and so was unable to organise it. This was not an original thought - it just seems like it today.
So Google is dead. It has no more magic at its disposal than a Balfour Beatty or a Saatchi and Saatchi, and no more moral authority. Could someone please inform President Obama, and the Conservative Party?
Competition
To mark this historic occasion, a Reg T-shirt goes to the best spoof of a Google-style cartoon logo which we can use to commemorate December 7th, the day Google gave up on search. A bit like this, but funnier: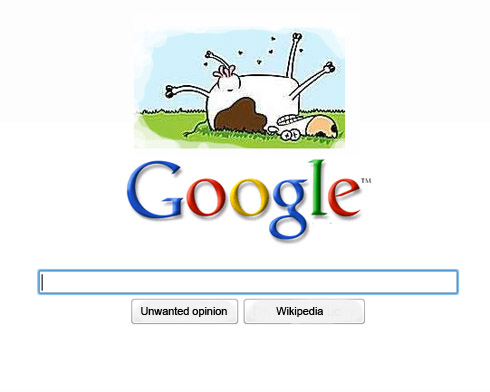 Artwork and chest size here, please. ®
Sponsored: Webcast: Build the next generation of your business in the public cloud