Bada smartphone to debut H1 2010
Samsung outlines OS' features
The first smartphone based on Samsung's Bada OS will arrive during the first half of 2010, the company has confirmed.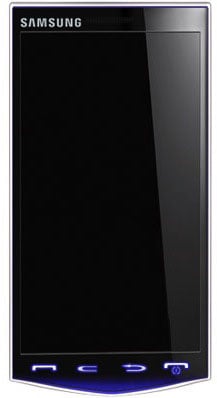 Could this be Samsung's first Bada smartphone?
During a formal launch of the OS in London this morning, Samsung said the mystery device will be available in 50 countries at launch. Images of what's rumoured to be a Bada smartphone (above) have already appeared online.
A steady stream of other Bada-based smartphones will then arrive during the H2 2010, with Samsung planning to make the OS available for download at some point in the future.
Samsung remained annoying tight-lipped this morning about the technical specifications of its first Bada smartphone, letting slip only that the device will offer full touchscreen support.
But we can speculate how the phone will operate, thanks to Samsung's brief outline of the Bada OS' key features, at the heart of which is a supposedly "simple and efficient" UI.
Not that we can confirm this - Samsung didn't show any images or videos of the OS in action.
Bada will also offer an "immersive experience", Samsung said as it demoed videogame Resident Evil running on the touchscreen of an unbranded handset, and allow photos, messages and more to be shared with contacts according to their location.

Just some of the features Bada will bring to its smartphone range
Application development has also been simplified, Samsung claimed without really disclosing how, and phone users will be offered "in app purchasing" – an established iPhone feature.
Slides displayed at the event also hinted how both Bada and its unfolding smartphone range will support a plethora of technologies and applications, including face recognition, Flash, "location triggering" and "programmable vibration".
Samsung has also shaken hands with a range of content providers to ensure a range of services will be accessible through Bada, including Twitter, Facebook and The Weather Channel. CapCom will be providing games, Samsung said.
So will Blockbuster Video. Neil Davis, the rental firm's CIO, told attendees that Bada owners will be able to watch films on their phones – hinting that a Blockbuster online movie catalogue could arrive on the smartphone platform. ®