Samsung P2370HD TV-monitor
A PC-TV display worth looking at?
Review Combo TV-monitors are not a new idea, but all too often what you get is a standard PC monitor with a TV tuner bolted on. Yet with the P2370HD, Samsung has created a fully functional 23in widescreen TV, that's designed to work just as well as a PC monitor.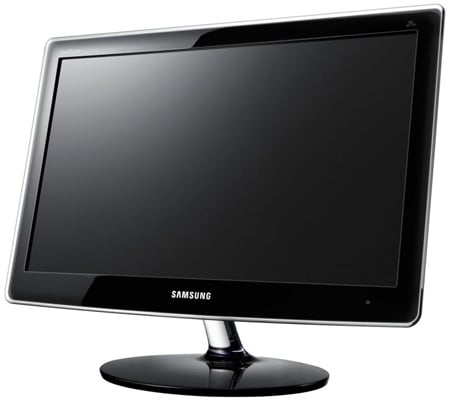 Dual purpose: Samsung's P2370HD
The monitor is comprised of a standard 16:9 display with a native resolution of 1,920 by 1,080 pixels, making it capable of full-HD playback of Blu-ray discs and games from your PC or directly using HDMI. Being a TV, it also comes with built-in stereo speakers. Indeed, the P2370HD offers the best of both worlds, bringing the design and usability of a great TV to the desktop. Moreover, it highlights just what we've been missing in the PC world.
Convergence of HD TV and PC peripherals has brought some really good design to desktop monitors, many of which have already started to look like TVs. Glossy, piano black bezels and gentle curves all help your monitor to look just as good in your living room or bedroom as they do in your office.
The P2370HD is no exception. Not only does it have the aforementioned TV-like looks, it also adds touch sensitive, backlit controls and an angled transparent acrylic stand which makes the display seem to almost float in mid air. The stand is also removable, allowing wall mounting with a standard VESA 75 bracket.
Samsung's trademarked "Touch of Color" design adds an almost homeopathically diluted amount of red tint to the bezel which actually succeeds in imparting a more expensive feel to the whole display. This is complemented by a row of illuminated touch-sensitive controls, which can be optionally turned off – at which point they become entirely invisible.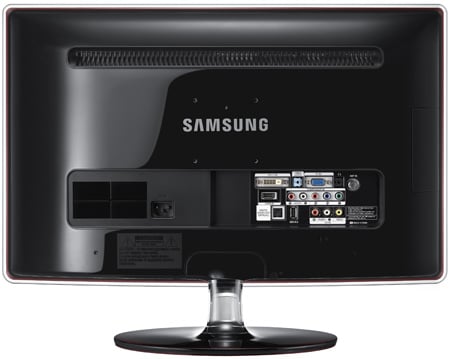 VESA mounting is an option
Powering the monitor you're greeted with an entirely unnecessary chime of a cheerful arpeggio and a short light show. Whilst being slightly annoying, it's also somehow re-assuring. It's a welcome that suggests you're going to be helped through this experience rather than left to fumble on your own.
Sponsored: Practical tips for Office 365 tenant-to-tenant migration