Media monsters float co-op ebook 'storefront'
Circling the publishing wagons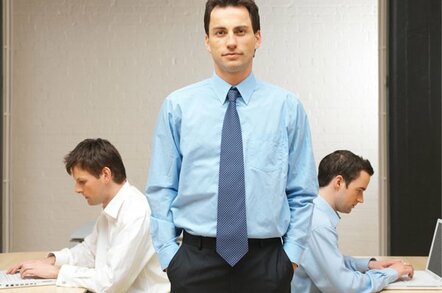 A quintet of publishing heavyweights have come together to develop a "digital storefront" for the delivery of media to portable devices.
According to a joint statement released on Tuesday, content in that shared storefront would include magazine and newspaper "reading experiences", and eventually "books, comic books, blogs and other media".
And the new venture would certainly have a wealth of content from which to choose, seeing as how the group's founding members include Condé Nast (27 pubs including The New Yorker, Wired, and Vanity Fair), Hearst Corporation (15 daily newspapers, 200 international mags, 29 TV stations, and more), Meredith (23 subscription titles, over 150 newsstand titles, 12 TV stations, and more), News Corporation (The Times, The Wall Street Journal, HarperCollins Publishers, and much, much more), and Time Inc (the eponymous weekly, plus People, Entertainment Weekly, Sports Illustrated and - yes - more).
As envisioned by the founding quintet, the initiative has a quartet of goals:
a common reading application versatile enough to support the "distinctive look and feel of each publication" - think color illustrations, photos, video, and other visuals,
a publishing system that would allow content to be optimized for a variety of display sizes and operating systems,
the aforementioned "digital storefront" stocked with a wide range of content, and of course
"a rich array of innovative advertising opportunities" - which would, one assumes, allow for online purchases of advertised products.
Although the venture was announced on Tuesday as a partnership of the five companies mentioned, it won't be limited to them. As the joint statement explains, "the venture will welcome other publishers to offer their content via this new digital platform." Revenues will come from content sales, subscriptions, and advertising.
One obvious target of the initiative is Amazon's Kindle. One obvious difference between the venture's goals and Amazon's locked-in platform is that, as explained by the venture's interim managing director John Squires, "Once purchased, this content will be 'unlocked' for consumers to enjoy anywhere, anytime, on any platform."
Although the Kindle is currently the big dog when it comes to ereaders, there are plenty of competitors nipping at its heels, such as the Sony Reader Daily Edition, Barnes & Noble's Nook, and others.
There are also devices and content concepts under development from members of the new venture, including the Skiff from a partnership of Sprint Nextel and Hearst and an as-yet unnamed effort from Time Inc.
It's this last concept, as presented in a video demo by Sports Illustrated's editor Terry McDonell, that introduces the proverbial elephant in the ebook room: Apple. McDonell's demo is presented on what for all the world appears to be an Apple-inspired media player - the long-rumored iPad, as it were.
Knowing Apple's desire to control content delivery through its iTunes App Store, and keeping in mind the new venture's commitment to "open standards for a new digital storefront," there appears to be a battle brewing. On one side you have Apple's momentum as the go-to digital-content delivery marketplace, and on the other you have the vast content resources of the publishing quintet.
But the iTunes App Store has one other advantage: it exists. Any proposed new standard that the quintet may come up with is still unformed, unfunded, and unbuilt. Reality has a way of upstaging good intentions.
Plus, although Apple isn't in the content-creation business, it does have the advantage of being on its own on the content-delivery side of the equation. In the newly announced venture, leaders of participating companies such as News Corp's Rupert Murdoch are not accustomed to being team players with competitors such as Time and Hearst.
And then, of course, comes the bottom-line question that all content creators are grappling with today - and which, for that matter, is driving traditional publishing down the crapper: who's going to pay?
In traditional magazine publishing, subscriptions are but a minor contributor to the overall revenue stream. Advertising and newsstand sales make up the bulk of revenues. There's no reason to think that an iPad's business model - whether from Apple or from the new venture - would be any different.
And whenever you mention the words "advertising" and "online" in the same breath, another elephant enters the room: Google.
Today's announcement may be the start of something big, or it may be merely a well-intentioned but ultimately futile bump in the steep and swift downhill slide of traditional publishing. ®
Sponsored: Becoming a Pragmatic Security Leader