Pure Sensia widget-running DAB radio
Tweet while you stream
Although the Sensia hooked up to our PC's Windows Media Server over an 802.11b/g network with no problems – and suffered none of the occasional network drop-outs that slightly besmirched the Squeezebox Radio – it refused to show any album art which once again left that huge screen looking for something to do.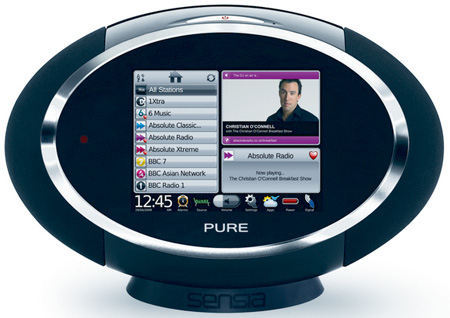 Runs on Linux using a Chorus2 CPU with 64MB Ram
Downloading Pure's own FlowServer software – PV's Twonky with Pure graphics slapped on it – fixed the album artwork situation, but it also caused our Sensia to re-boot itself nearly every time we tried to access the server which didn't strike us as a step forward. When streaming various radio stations, the Sensia didn't show the station logo, album art or 'now playing' information. Again, something that the cheaper Logitech Radio has no problem doing.
Only when tuned into a DAB station does the application panel finally find a use for itself by displaying station slide shows. Internet radio content can be managed using Pure's Lounge site. Log into that on your PC and you can set up different favourites folders and the like, which then sync with your Sensia. This is handy, but hardly essential. More useful is the Sensia's ability to access a wide selection of podcasts and the BBC's national, but not local, Listen Again content.
As for the Sensia being a social networking tool, well at the moment the only applications available are Twitter and a weather forecast using data from AccuWeather. More applications including Facebook and Picasa and an apps manager will arrive 'soon' according to Pure. Apps run in the upper right hand box on the screen and can be flicked one to another by swiping up or down but again the transition is not as smooth, reliable or quick as we would like.
Tap the top right corner and apps go full screen and you can toggle a 'now playing' overlay, which is a nice touch. Twitter works well enough on the Sensia as does the virtual keyboard but Pure really should have made sure that Facebook at the very least was also available at launch. Getting the most from a Sensia is hampered by the lack of a decent user guide making any detailed examination of the machines abilities a matter of patient exploration and trial and error.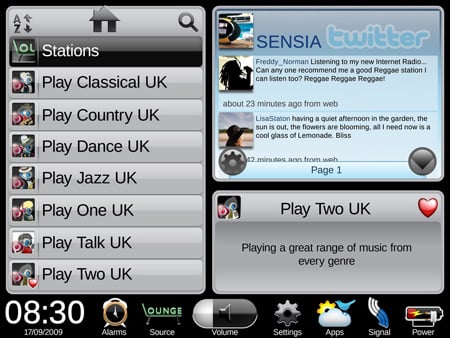 Twittering is easy enough, but some of the basics are a challenge
A firmware update – our test unit was running the latest v1.3 - may fix all these shortcomings, but we can only review what's put in front of us. It's not all bad news though. Pure know a thing or two about getting decent sound out of small packages and on this front at least the Sensia doesn't disappoint.