Pure Sensia widget-running DAB radio
Tweet while you stream
To give you some frames of reference we came to the Sensia while messing with Logitech's Squeezebox Radio – which uses its big knob to navigate lists and menus – and we have a touchscreen O2 Joggler in the kitchen, which we use pretty much every day.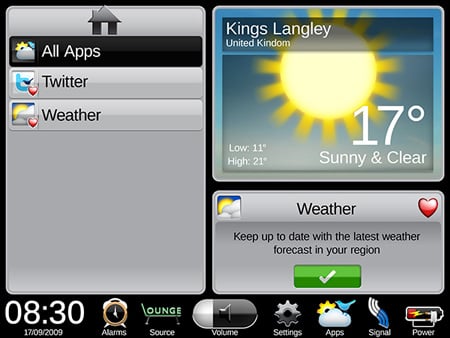 The available apps are somewhat limited
Whereas scrolling through content on the Logitech is swift and satisfying, the Sensia proved stodgy and slow with swipes simply not translating into the hope for fast and fluid on-screen reactions. On some occasions, swiping up a station list would register the first and last touch, but not the intervening swipe motion, thus necessitating a repeat performance.
Problems are exacerbated by some of the icons and buttons on the Sensia's screen, these being just a bit too small for easy arms length use. The Joggler's system of larger, well-spaced icons and touch/drag menu bars may not look as swish as the Sensia's UI, but it works better in the real world. Put the Sensia on a desk directly in front of you and things are easier, but this isn't a phone - you shouldn't have to pick it up or go nose-to-nose to use it.
Swiping through long lists also suffers from the system not shifting to an accelerated letter-by-letter search when you swipe repeatedly. When flicking up and down long lists the Sensia is a also bit too skittish for our likes, taking a noticeable amount time to work out where it is and in what order its supposed to list stuff.
Once content had been located activation taps often have to be made twice and sometimes three times before anything actually happens even though the screen clearly showed the first touch registering. The remote control – another lovely bit of design, it must be said – only manages the volume, pause/play/next/last track, source and power so you can't use it to cut down on the time spent prodding the screen. Incidentally, the on-screen volume control works perfectly.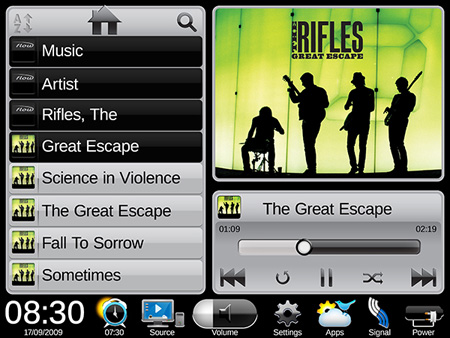 Album art is displayed... on good days
Strangely, for a device with such a large screen, the Sensia can't play video. We are used to streaming video from a PC to our Joggler and hoped to be able to do the same with the Sensia but without the need for external speakers. Such a shortcoming seems a waste of the Sensia's large and colourful display.
Sponsored: Becoming a Pragmatic Security Leader