Midrange, big iron take the Q3 hits
x64 boxes up off the mat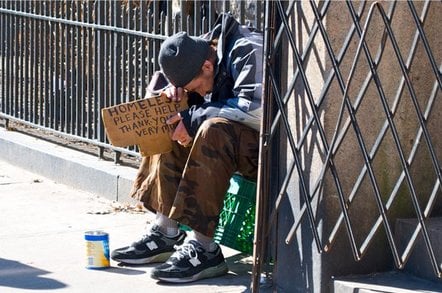 The server market has been declining sharply for the past five quarters, and everyone is looking for a little good news since spending on iron is a bellwether of sorts for the IT industry as a whole. Echoing comments from rival Gartner earlier this week, the box counters at IDC want you to know that the glass is stabilizing somewhere around four-fifths full.
IDC's prognosticators said that in the third quarter, sales were down 17.3 per cent compared to the same period in 2008, which was no great shakes you will recall, hitting a low of $10.3bn. But this is the first time that the market has grown sequentially since the final quarter of the year, and even though shipments were down 17.9 per cent too, this is vastly better than the second quarter of this year, when both revenues and shipments were down more than 30 per cent.
"The worldwide server market exceeded expectations in the third quarter with improving x86 server demand leading the way, which was driven in part by the infrastructure refresh momentum that is building in many geographies," explained Matt Eastwood, group vice president of enterprise platforms at IDC in a statement accompanying the server stats.
"In fact, x86 server revenues experienced their largest sequential quarterly revenue increase in nearly five years...IDC believes that platform migration is once again gaining steam in the market and the post-recession server deployment patterns will establish the technology agenda in the datacenter for the next business cycle. For server vendors, after five quarters of market contraction, the next few quarters will be critical to determining the technology platform winners and losers in the years ahead."
If this quarter is setting the agenda, then makers of Unix and proprietary midrange kit in the midrange and high-end price bands had better brace themselves for a severe thrashing.
Gartner gives out freebie data that shows how RISC and Itanium boxes running Unix and x64 boxes running anything do. IDC talks publicly about how different price bands of servers are doing and how different OSes are doing as they are attached to servers that go out the factory door each quarter.
By IDC's count, so-called volume servers (which cost under $25,000, which generally are based on Xeon or Opteron processors, and which usually run Windows or Linux) had a 14.7 per cent revenue decline in Q3, while high-end boxes (which sell for $250,000 or more) had a tougher 19.3 per cent drop and midrange boxes stomached a 23.4 per cent revenue hit. (Midrange machines cost between $25,000 and $250,000 in the IDC lingo).
Why did the volume servers do so well? In short, IDC thinks that customers are buying beefier two-socket boxes instead of midrange gear. This takes shipments away from the midrange segment and shifts shipments and a somewhat elevated average selling price to the volume segment. (Gartner's data bears this out too, as we pointed out).
When very powerful midrange machines are available early next year using new Xeon and Opteron processors, there will be a similar downshifting from pricey enterprise-class boxes to souped up midrange gear, rest assured.
Taking a look at server revenues by operating system type, IDC reckons that Windows-based servers had a 12.8 per cent decline, to $4.5bn. Windows now represents a 43 per cent share of the server pie. Linux server sales fell by a similar 12.6 per cent, to $1.5bn, in Q3, which is about what you would expect since Windows and Linux are locked on the same biorhythms right now and have been for the past several years. If you don't consider Linux a flavor of Unix - and there are arguments on both side of that issue - then Unix server revenues in Q3 were down 23.4 per cent to $2.8bn.
While Unix initially gained some market share ground at the beginning of the economic downturn as large Windows and Linux projects were shot dead, with Unix projects having enough inertia to close, the ongoing pressure to cut costs is now putting pressure on IT shops to defer plans to buy new iron or do upgrades. IDC believes that IBM had 39.5 per cent share of Unix sales in Q3, which has to be a continual embarrassment to both Sun Microsystems and Hewlett-Packard, which have 23.4 per cent and 29.2 per cent Unix stakes, respectively.
IDC reckons that x64-based server sales declined only 12.3 per cent, to $6.1bn, but perhaps more importantly, sales for x64 gear were up 18.7 per cent compared to the truly awful second quarter. However, x64 server shipments were down 17 per cent in the quarter, to 1.6 million units.
Interestingly, the blade server market had an honest-to-goodness, year-on-year rebound according to IDC, which says blade server sales (across all architectures and operating systems) increased by 1.2 per cent in the third quarter, to $1.4bn. That growth came on the back of a 14 per cent shipment decline, so blade customers are definitely wielding heavier configurations than a year ago.
IDC reckons that HP still has dominant blade market share, with 50.7 per cent of the total, but IBM gained 6 points of share in Q3 to get its 27.2 per cent share. Dell had third place in the blade race, with 8.9 per cent of the kitty.
Add it all up, and IBM is still the revenue market leader in the server racket according to IDC, with $3.32bn in sales in Q3, down 12.9 per cent. HP is in a statistical dead heat (which IDC is just saying to not get HP miffed), with $3.22bn in revenues across all of its server brands in the third quarter, a decline of 16.8 per cent compared to a year ago.
Dell ranked third with $1.41bn in sales (down 6.8 per cent), Sun was fourth with a humbling $778m in sales (down 35 per cent), and Fujitsu coming in fifth with $594m in sales (down 8.2 per cent). All other vendors combined had $1.1bn in sales, down 29.4 per cent. Some of those others are having a tough time, and it is reasonable to wonder how many of them will make it if the economy doesn't radically improve. ®