Samsung H1 Vodafone 360
The Twitbook lover's delight?
The H1 and Vodafone 360 are designed to go together, so you can't really get much out of the phone without understanding Vodafone 360. The service will be supported by more handsets in the future, to varying degrees depending on what Vodafone decides to build in - or what it's able to. The handsets won't all have huge screens, and they won't all run the LiMo - Linux Mobile - Release 2 operating system as the H1 does.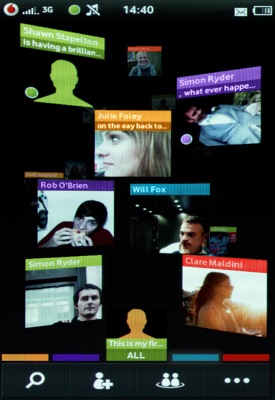 All your pals, right in front of you
The LiMo-360 user interface looks and feels very different to the norm. When you switch on and get past the unlock screen, you're presented with a home screen that shows your contacts – what Vodafone calls the "People" view. These can be grouped – the default settings are All, Work, Friends and Family, but you can change these and add more groups.
You import contacts from a wide range of online tools, including Facebook, Google and Windows Live, though not yet Twitter. You can also include friends who have signed up to Vodafone 360.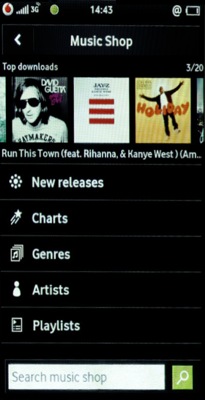 Ah, the inevitable music store app
Contacts are presented in a 3D view, with images drawn initially from Facebook, though you can use different pictures if you like. The people you've interacted with most recently are placed at the front. Sweep with a finger and the view changes to show those you've been in touch with less often.