Once that's done, the images are convincing and enjoyable, although with a little work on noise reduction, things get even better. The truth is that it shouldn't be quite as complicated as it is to get a perfect picture, and Samsung loses points for this, but when you do have things just as you like them, the images are terrific.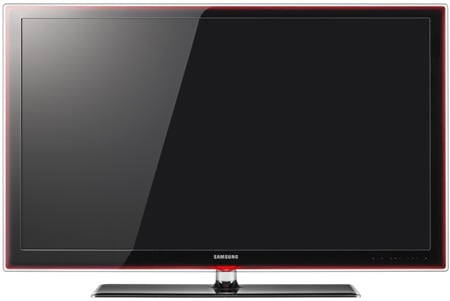 Ideal for wall mounting and looks good both on and off
Colours are realistic, including subtle skin tones and detailed shadows. Freeview content plays well, looking bright and inviting with no artefacts or jagged edges. Indeed, upscaling for both Freeview and DVD content is perfectly satisfactory, rather than outstanding.
High-def is predictably better: even dark suits have depth and richness. In Enchanted on Sky Movies HD, Patrick Dempsey's sober suit describes every detail of the pinstripe where SD might have shown this as a dark grey blob. The lively colours of the fairytale princess gleam appropriately. Again, even fast-moving action is managed without ugly smearing effects.
Blu-ray, as you'd expect, is better still. In Frost/Nixon, Frank Langella's presidential face appeared suitably sepulchral, and Michael Sheen's pasty-skinned David Frost looked realistic, as convincing as the actor's pixel-perfect performance. The subtle palette shifts from colour-bleached flashbacks to sunshine-heightened California exteriors were beautifully delineated. Overall, splendid.
Verdict
This TV has a lot going for it, from great looks before you even plug it in through to sharp, pleasing HD images and decent Freeview fidelity. The audio isn't cinephile quality, but fine for day-to-day use. The addition of limited Internet access, though mostly a gimmick, is enjoyable enough – apart from slow YouTube loading times. Sure, the out-of-the-box colour settings require tweaking unless you wear sunglasses indoors, and the absence of the Wi-Fi adaptor to connect to the Internet is a shame, but all the important boxes (picture quality, style, ease of use) win big ticks. ®
More HD TV Reviews...

Sharp
Aquos
LC40LE700E

Philips
Cinema
21:9

Sony
Bravia
KDL-46W5810

Toshiba
Regza
37AV615DB
Sponsored: How to simplify data protection on Amazon Web Services

Samsung UE40B7000 40in LCD TV
With its sharp, high-contrast picture and cool-looking super-slim frame, it's certainly distinctive and well worth checking out.