Anything that requires detailed searching really benefits most from a Qwerty keyboard, rather than a remote control. And besides, this TV is designed to show off great, high-quality images at their best, which has never been the priority for the quick-and-dirty YouTube and its ilk. It's also the sort of thing you can't quite show off about – a boast at a dinner party that 'My TV can surf YouTube' would be met with disappointment as the widget took forever to come up with content as you miserably mutter 'Oh well, you get the idea' before turning to the dessert wine.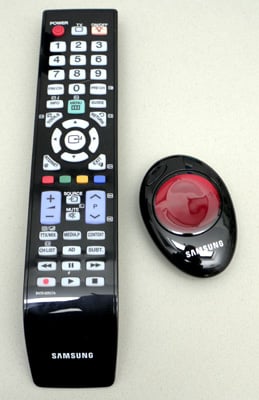 Two remotes: one for in depth probing and the other does the basics
A word about the remote: Samsung has always had a way with snazzy controllers and even if the gloss plastic isn't to everyone's taste, it's easy to use, with clearly marked buttons and a handy backlight for darkened rooms. It also has an odd scooped shape, which is tactile and pleasing.
There's also a strange mini remote, which is like a plastic pebble – black with a rose red-hinted centre button. It has rather less functionality than the main remote – you can change volume and channel, or turn the TV on or off. It's not bad to use but will be swiftly mislaid.
The TV's sound is reasonably good, clear and powerful from the hidden speakers, though the volume icon with its fussy doughnut image that pops up as you turn it up or down is a little annoying. Of course, the slim body of the TV doesn't allow space for big speakers and you'll find more beefy sound from a separate home cinema system, but it was certainly acceptable.
Although this TV uses LED backlighting – because the LEDs are mounted on the edge of the screen rather than behind – there's none of the localised dimming possible on the LE40A786, reviewed here last January. But although this means the versatility of the backlight is reduced, the picture is still impressive. The LED lighting, it's claimed, also means a noticeable difference to energy consumption, too.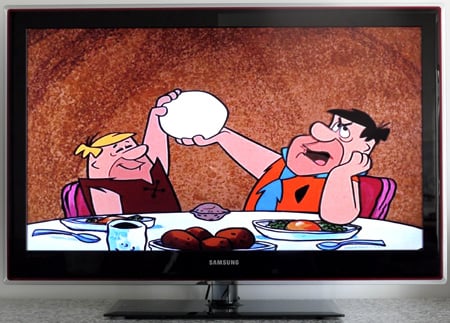 Wi-Fi connectivity is an option, but Ethernet appears as standard
Samsung's out-of-the box settings tend towards the garish with pumped-up colours that can seem neon-lit. That's true here, too, but a moment or two spent tweaking (adjust backlight from 10 to 7 and colour from 55 to 45, say) and the results are dramatically improved.
Sponsored: How to simplify data protection on Amazon Web Services