What ever happened to storing pics with electron cannons?
Blue Blue's digital photo beam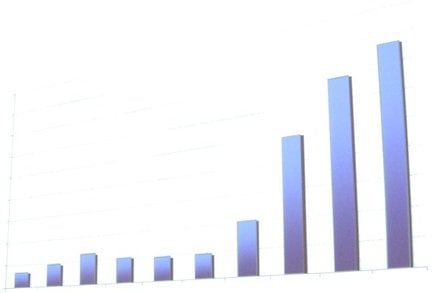 This Old Box Features make the system. After all, what good is a gaming rig without superfluous neon-blue lights, an iMac without the almost-matronly lack of sharp edges, or a Verizon phone not forged by the souls of the damned upon an altar of bones?1

This simple and self-evident truth carries over to storage systems as well. Normally, storage is a bit of bore to yours truly - yet this column can't help but make an exception to the terrific IBM 1360 Photo-Digital Storage System for two simple reasons: 1) It has an electron cannon; and importantly 2) Sorry, stepped away for a cup of coffee. Does the system still have an electron cannon? Yes? Fantastic.
The bulky IBM 1360 includes this dangerous-sounding device for a good reason. Built in 1967, it was the first system designed from scratch to store over 1 trillion bits (~116GB). Ponder that 116GB is an OK chunk of storage even today. Then puzzle how IBM engineers built it back in the '60s. Answer: Electron cannon, silly. (highlight to reveal spoiler).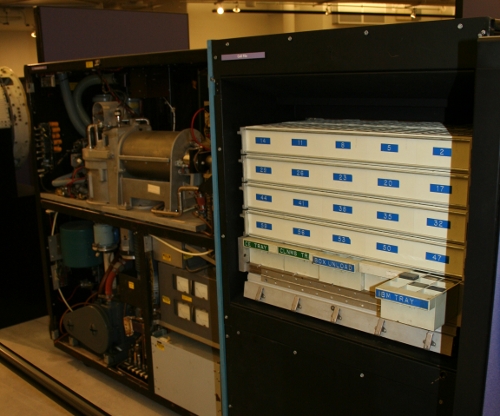 There may actually be damned souls involved here too...
Unlike storage systems of its time (and really, any since) the 1360 stored data inside cabinets stuffed with drawers of photographic film imprinted with binary data rather than the usual methods of magnetic drums, platters, or tape. The system even contained its own internal "film processing laboratory," which developed the film automatically. The film and drawers were moved about my means of pneumatic tubes and a robotic arm. Obviously, this was a very complex rig - but it worked. Of the handful of commercial systems built, three were still being used into the late 1970s.
Back 1960-way, the US Atomic Energy Commission was shopping around for a system that could store an enormous amount of data for their newfangled nuclear blast simulations. The Cold War was in high gear, and America wanted to see what devastation it could wreak in fun new ways with unprecedented accuracy.