TomTom iPhone Car Kit
Worth its Jobsian price tag?
One particularly confusing freeway on-ramp caused some confusion, as well. Although the map displayed the correct route, the spoken directions were somewhat ambiguous.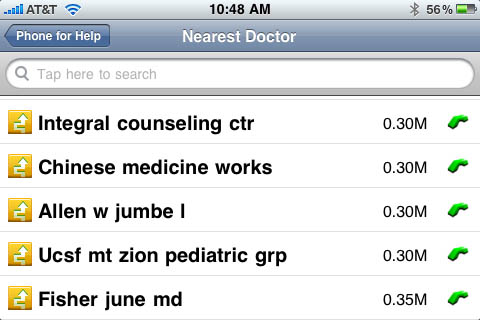 Dented aura? The Help Me feature can call or give you directions to your local Integral Counseling Center
Version 1.2 of the TomTom app adds a Help Me feature that provides a text description of exactly where you are, and can display driving directions to the nearest hospital, car-repair shop, police station and more. The Help Me feature also lists phone numbers, linked to your iPhone's phone app, that allow you to quickly call the cops, emergency services, the nearest doctor and so forth. The provided list of possible contacts, however, is distractingly broad. Listing our local new-age self-help center - Integral Counseling, "Leading Therapy for Mind, Body, and Spirit" - seems a bit of overkill for a purported emergency-services feature.
Text-to-speech has also been added for speaking street names - "turn right, Main Street", rather than merely "turn right", for example. TomTom says that text-to-speech is available in version 1.2 in English, Spanish, and French, but although the quality of its pronunciation of English and Spanish-named streets during our San Francisco testing was quite acceptable, we were unable to drive to Quebec to test its pronunciation of Rue de la Point-aux-Livères.
In the US and Canada edition that we used in our testing, text-to-speech was limited to one of the dozen supplied English-speaking voices: Samantha. But that's a minor limitation: text-to-speech is a helpful addition in this new version, especially when you're taking an unfamiliar route through familiar territory. And, fortunately, Samantha has a pleasant voice.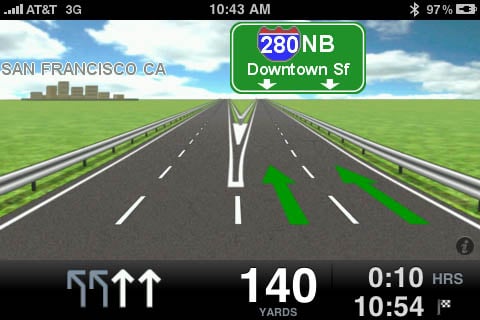 Counterintuitive freeway splits are clearly indicated - here, you turn right to get to SF on the left
There's also now what TomTom refers to as "advanced lane guidance," a capability that we found quite helpful in warning us which lane we should be in to best prepare for an approaching turn. Also, timely lane-guidance images for freeway off-ramps prevented us from careening around in heavy traffic to take the correct turn-off.