Pegatron smartbook uncloaked?
Early 2010 release possible
Following recent confirmation that Taiwanese contract manufacturer Pegatron plans to launch a machine of its own early next year, a 10in fanless netbook sporting the firm's logo has been spotted.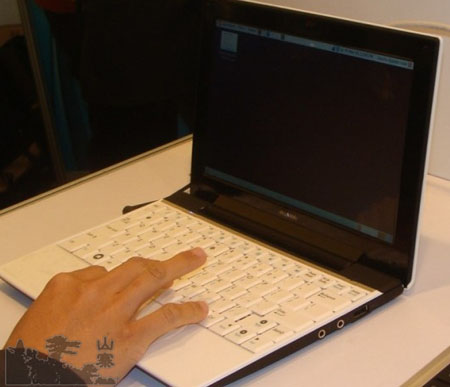 Pegatron has confirmed plans to launch a smartbook in Q1 2010
Source: Shanzai
Powered by an ARM processor and running the Ubuntu OS, the machine was reportedly demo'd by Pegatron at the 2009 Connected Community Technical Symposium in Taipei last week.
While Pegatron hasn't confirmed if the pictured machine is the same one that it hopes to launch in Q1 2010 as a Pegatron-branded netbook, website Shanzai reported how Pegatron's General Manager, Chou Biao Sheng, described the machine by a fairly unusual acronym "AQUIC".
Apparently this stands for: Always on, Quick on, User Interface and Cost.
The so-called 'smartbook' would function more like an always-on mobile phone than a netbook, but boot up quickly if you do switch it off. The machine's UI will be user-friendly and accessible, Sheng also apparently said, while offering "reduced power consumption" and a thin design owing to its fanless construction.
Pegatron assembles PCs on behalf of notebook behemoth Asus, which last month revealed to Register Hardware a concept fan-less PC with "thermal holes" for cooling the machine's innards.
As for cost, Sheng said the machine could cost less than $200 (£120/€133). ®
Sponsored: How to Process, Wrangle, Analyze and Visualize your Data with Three Complementary Tools