Dell details smartphone spec
Mini 3i internals revealed
Dell has come clean on the full specifications of its Mini 3i smartphone, and it doesn't impress.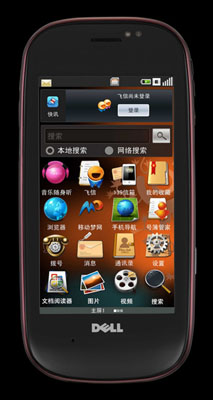 Dell's Mini 3i: not the iPhone killer some had hoped for
Dell announced earlier this month that its Mini 3i smartphone – which runs China Mobile's Android-based oPhone platform - would launch in China towards the end of this month.
As expected, the Mini 3i centres on a 3.5in multi-touch screen with 640 x 360 resolution and support for quad-band GSM/GPRS/Edge connectivity. So, no 3G, it seems.
LG and Sony Ericsson, to name just two phone manufacturers, may be already offering 12Mp smartphones, but the Mini 3i makes do with a 3Mp camera with auto-focus, flash and video capture.
The Mini 3i also incorporates GPS and Bluetooth. It uses Micro SD cards for storage and can take cards of up to 32GB capacity.

A UK launch still hasn't been announced
Since Dell's smartphone will launch on China Mobile, it's no surprise to learn that the device supports 139Mail, a local email service, and the carrier's own Fetion chat service. A non-descript "digital maps" service can also be used on the Mini 3i, Dell added.
Dell still hasn't said whether the handset will ever make it to the UK. ®