PC sales bounce up (and down)
Netbooks drag year-end uptick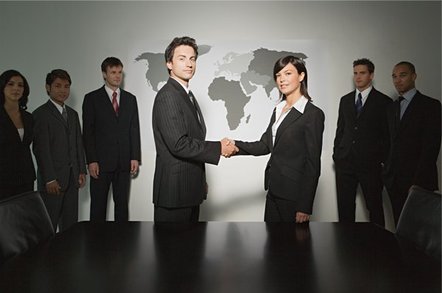 The box counters at Gartner have revised their PC shipment estimates for 2009, saying that PC makers did better than expected pumping out machines in the third quarter. But because average selling prices are falling - thanks in part to the advent of cheap netbooks and general price erosion across all PC types - sales are still going to be down this year.
Specifically, Gartner said that global PC revenues will fall 10.7 per cent to $217bn this year and shipments will rise by 2.8 per cent to 298.9 million units. Perhaps more significantly, Gartner has put out a rosier forecast for 2010 and now says that worldwide PC sales will grow by 2.6 per cent to $222.9bn and that shipments will rise by 12.6 per cent to 336.6 million units.
"Shipments in the third quarter of 2009 were much stronger than we expected, and that alone virtually guaranteed we would see positive growth this year," explained George Shiffler, research director at Gartner, in a statement announcing the new forecast.
"We're anticipating seasonally modest growth in the fourth quarter of 2009, but because shipments were so weak in the fourth quarter of 2008, growth will appear quite strong. This could lull vendors and market watchers into thinking the market is recovering faster than it really is."
While people have been trying to figure out if Microsoft's new Windows 7 operating system would foster a PC upgrade cycle, Shiffler doesn't think that Windows 7 will have more than a limited impact on holiday PC sales this year.
"We just don't see consumers buying new PCs solely because of Windows 7," said Shiffler. "We are expecting a modest bump in fourth-quarter consumer demand as vendors promote new Windows 7-based PCs, but the attraction will be the new PCs, not Windows 7."
The more important question, according to Gartner, is when will businesses move to Windows 7. "We don't see businesses mainstreaming Windows 7 much before the end of 2010. We think many businesses will try to shift replacements to the back end of next year so as to sync their adoption of Windows 7 with their PC refresh. That will put a damper on early 2010 shipments."
Recork that champagne now. Shift to beer.
Breaking it down by PC type, Gartner says that mobile PCs will account for 162 million machines this year, up 15.4 per cent compared to 2008, and the company's prognosticators expect that mobile PC sales will accelerate in 2010, rising by 21.2 per cent to 196.4 million units.
The mini-notebook segment of the mobile PC segment is growing like crazy, hitting 29 million units in 2009 and growing a stunning 41.4 per cent in 2010 if Gartner doesn't have gunk on its crystal ball. Desktop PC shipments are expected to fall 9 per cent, to 136.9 million units, this year and climb by 2.4 per cent, to 140.2 million machines, in 2010.
Gartner warns that this is a preliminary forecast, and it will cook up what it deems will be a more accurate final forecast for 2010 in three weeks, when the holiday buying season is done. ®
Sponsored: Minds Mastering Machines - Call for papers now open