Amazon punters go mad for 'Laptop Steering Wheel Desk'
'A total lifesaver', enthuses satisfied customer
Amazon customers have gone absolutely mad for the AutoExec WM-01 Wheelmate Steering Wheel Desk Tray, which "attaches to your steering wheel for easy access to a writing and drink storage surface".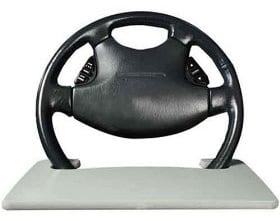 How, you may wonder, have we survived until now without a product which is "flat for writing and perfect for lunch or a snack"?
Indeed, here are few customer reviews:
This has been a total lifesaver. It allows me to prop my sheet music against the wheel, allowing me to play the guitar with both hands while driving.

...

I love this product. Before the Laptop Steering Wheel Desk came along, I could not participate in my World of Warcraft guild raids. They always started just as I was getting off from work, and my hour-long commute precluded me from all the exciting MMORPG action. No more! Now I'm on-time for the raid, I've replaced our top tank for Wrath of the Lich King content, and our progress is better than ever. FOR THE HORDE!

...

FINALLY! A product that allows me to pursue my two passions in life: building model ships in bottles, and autocross. Never before have I seen a product that enables me to do what I love, caution be damned!

...

At first I was cynical about the rave reviews for this product, but I'm a darin' kind of guy and decided to give it a shot. Well, it turns out that this is perfect for doing the I Ching while driving. I've tried both the coins and the yarrow sticks, and they work great. And with the Wilhelm-Baynes translation on my Kindle, I'm good to go. I did find it helpful to wrap a lot of duck tape around the edge of the desk so I wouldn't lose so many coins or sticks in turns.

The I Ching is really helpful in trying to decide what to do next, where to dine, and which exit to take from the interstate. It's been very helpful in selecting stocks and mutual funds. My 401K went UP during the financial meltdown.

So with the laptop steering wheel desk and my Kindle, I can throw the Ching anywhere, anytime. It makes me feel forever Jung.

...

I often have to use my .45 to carve my way through slow traffic. Now I can field strip, clean, and lube my gun before I get home. Plus, the smell of Hoppe's #9 is sweet.

...

Do you have any idea how hard it is to read Braille books while driving? Every time I'd hit something my book would slide off my lap onto the floor and I'd lose my place. Problem solved...Thanks Laptop Steering Wheel Desk.
Well, we haven't seen so much online enthusiasm since one stunned Amazon reviewer explained that Katie Price and Peter Andre's album A Whole New World contained songs "so emotional, I go weak at the sphincter". ®
Important Safety Notice
The manufacturer of the Laptop Steering Wheel Desk notes buyers should "never use this product while driving". The same applies to A Whole New World.
Bootnote
Thanks to Adam Sweetman for alerting us to this must-have product.