HTC HD2 Windows Mobile smartphone
Big screen winner?
Review HTC has just about the fullest range of Windows Mobile smart phones on the market at the moment with a wide variety of types and prices. The HD2 is at the apex of its range, offering arguably the most bang, but also demanding a considerable amount of bucks. It lines up as HTC's most complete package to date though, with a huge screen, the latest Sense UI, Windows Mobile 6.5 OS, HSDPA 3G, a 5Mp camera, Wi-Fi, FM radio, GPS and social networking integration.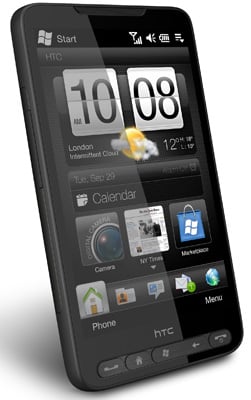 Quite a display - HTC's HD2
There's no getting around it, the HD2 is a large handset and looks as if it's well on the way to becoming a notebook PC. HTC has sweetened the pill however by making it exceptionally slim and fairly light, so it measures up as 121x67x11mm and 157g. It's still a handful, but not a huge jump from the iPhone and, in practise, we found it surprisingly pocket-friendly.
The capacitive LCD touch screen is a mighty 4.3in with 480x800 pixel resolution and both looks and feels fantastic. The display is clear and sharp for viewing but it's also sensitive enough that it never seems to have any trouble distinguishing between brushes and strokes – not something that you'll find on all Windows Mobile touch screen phones (are you listening Acer?). It is a bit of a fingerprint magnet however, seemingly lacking the sort of anti-grease coating that the iPhone revels in.
Below it is the usual line of hard buttons: call start and stop, home, Windows and return. The touch sensitive zoom bar we've seen on some recent HTC handsets has gone, but that's because the screen now supports multi-touch, so you can pinch to zoom when you're browsing the net or viewing pics.
On the rubberised plastic sides there's just a volume rocker with a micro USB power/sync slot and a 3.5mm headphone jack on the bottom. The back features a large loudspeaker, plus the protruding camera lens and double LED flash. There's also a micro SD card slot under the metallic back cover plate and, fortunately, you can hot swap it without removing the battery.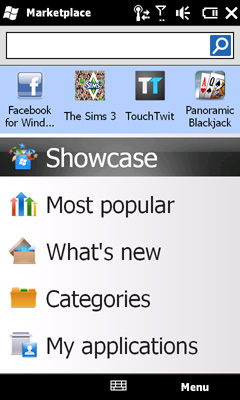 Windows Marketplace is gathering momentum
The HD2 has the latest Windows Mobile 6.5 operating system with HTC's own Sense user interface running on top. You get the new-look Windows menu with its big thumb-friendly icons taking up the full screen. Why you can only shuffle individual icons to the top of the screen, rather than placing them wherever you like, Android-style, we can't imagine. Along the bottom of the display is HTC's customisable menu bar scrolling. Windows Marketplace may not have its shelved stacked so high as Apple's App Store just yet, but it's easy to use, and the apps are mounting by the day.