VTOL gyro-copter flying car mates with killer robot
Droid jump-choppers to be offered to military
A flying-car company which has struggled for 15 years to win acceptance for its radical gyrocopter/aeroplane technology may have finally broken through into the mainstream. It was announced this week that Carter Aviation technologies - aspiring designer of the CarterCopter Personal Air Vehicle - has partnered with successful military robot maker AAI.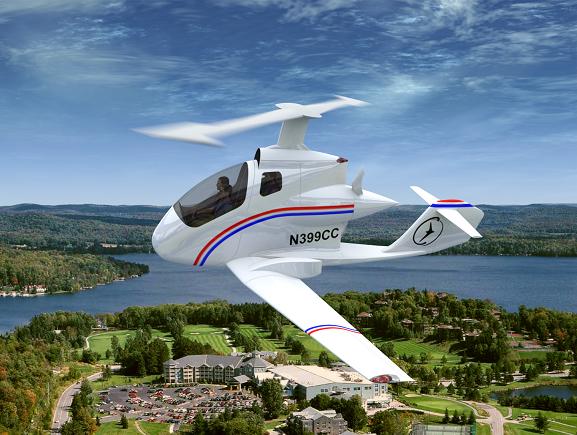 Well you should have gone before we left home.
The CarterCopter is described by its inventors as a "slowed rotor/compound" (SR/C) aircraft. In essence it's an autogyro - a helicopter whose rotors aren't powered but spin freely - with added wings. At slower speeds through the air, the rotor whirls faster and supports most of the CarterCopter's weight.
Going faster, the rotor slows to reduce drag and the wings take on the burden. The machine is driven through the air by one or more normal propellers.
A normal autogyro can land vertically - in the same fashion as a helicopter "autorotating" to an emergency landing - but it can't lift off straight up like a regular chopper. The CarterCopter avoids this, however, using a cunning gadget called a pre-rotator to make a "jump takeoff".
The pre-rotator, not being required to power the rotor when it is driving air, can be quite small and light. It is engaged with the CarterCopter sitting on the ground with blades pitched flat so as to offer zero resistance. The rotors are gradually spun up to very high speed, with their weighted tips allowing a lot of energy to be stored as in a flywheel - and the undercarriage holding the fuselage oriented.
When ready, the rotor pitch is pulled in and the forward driving prop engaged. The whizzing rotor heaves the machine up into the sky and the prop shoves it forward to flying speed. The CarterCopter can't hover in mid-air, but it can "jump" to a surprising height like this, clearing 50 foot buildings without bother.