Office 2010 fights Google with SharePoint bloat
Decent upgrade gets out of shape
Love/hate relationship
Outlook is the application users love to hate, and those mixed feelings will likely continue in the 2010 version, now sporting its own ribbon UI. Here is an unfixed annoyance: if Outlook is still indexing, and you perform a search, it gives incomplete results rather than automatically switching to a non-indexed search.
Outlook has a new conversation view, which is meant to sort messages into meaningful threads. Unfortunately it appears to be based entirely on the message title. When I received an email entitled "Printer", Outlook happily and wrongly threaded it with a message of the same title from 18 months earlier. Conversation view also slugs performance and I quickly switched to the old simple date order.
The most intriguing new feature in Outlook is called the Social Connector. If you open an email or contact, a new People Pane invites you to click a photo to see "social network updates" from that person, along with related Outlook items like emails or meetings.
"Outlook Social Connector will connect to Microsoft networks such as SharePoint 2010 today and Windows Live at launch, as well as any social network that wants to build a connector," says product Manager Chris Adams, adding that "we are collaborating with LinkedIn to build providers for LinkedIn networks. Outlook Social Connector is an open platform, and we encourage third party networks to build Outlook Social Connector providers."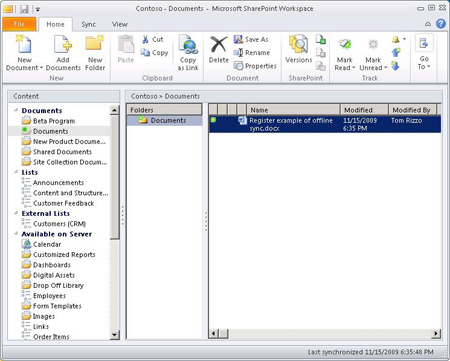 Newcomer SharePoint WorkSpace 2010 lets you take SharePoint documents offline
This brings us to the web aspect of Office 2010. This is essentially a SharePoint story. Office Web Apps require SharePoint Foundation Services 4, which replaces SharePoint Services as the version that comes free with Windows Server. There is also a cloud version, which is a feature of Windows Live SkyDrive. The Web Apps offer a good-looking but very much cut-down set of tools for creating and editing documents in the browser.
Microsoft's differentiation here is that the document format is unchanged whether you edit on the desktop or in the cloud, whereas Google apps require an import and export process. Documents stored on SharePoint are also enabled for simultaneous multi-author editing.
If you want the full Office 2010 experience, SharePoint 2010 is essential. SharePoint has taken web features like blogs, updates and social networking, and sanitized them for a corporate environment. These then surface in places such as Outlook's social connector.
SharePoint WorkSpace 2010, part of the new Office client, lets you take SharePoint documents offline, with synchronization of offline edits when you reconnect. This was previously possible with SharePoint Lists in Outlook, but WorkSpace 2010 is a better and more robust solution.
Outlook aside, Office 2010 beta performs well and offers a decent upgrade from Office 2007. The new SharePoint-based features mean that Office now also has a web store, though it is spoiled by the cut-down functionality of the web apps and the monstrous underlying complexity of SharePoint itself. ®