Touch controls floated by Infragistics for Microsoft's Surface
Computational fiddling
A trial set of controls to build touch-based applications with input from different users on Microsoft's Surface have been released by interface specialist Infragistics.
The company is expected to today announce three types of controls have been customized for Surface and are available under a Community Technology Preview (CTP) for developers to build maps, displays and graphics for Microsof'ts table-based computer.
The controls cover 2D and 3D charts, there are three carousel controls for building things such as iTunes-like cover flow and scrolling, and there's a map control to work with different types of maps. The CTP will be unveiled at Microsoft's Professional Developers' Conference (PDC), in Loa Angeles, California.
Infragistics made its name during the last 10-years building components for the web and PC, and said it had re-engineered these five particular components during a two-month period to work with Surface.
The components had to be re-worked mathematically and computationally to not just recognize input from different people simultaneously, rather than one using a mouse, but also to recognize different types of touch and gestures to understand what the user was doing.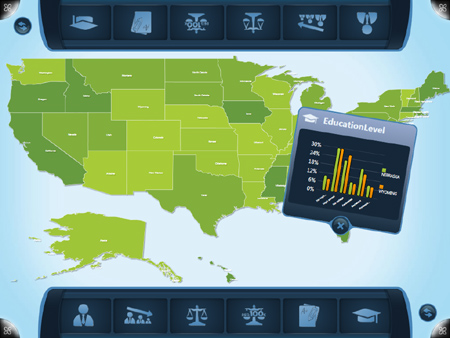 Charts, scrolling and maps re-worked for fingers on Microsoft's Surface
Andrew Flick, Infragistics' product manager of rich clients, told The Reg: "We had to do a lot of physics processing and to understand the differences between touch and multi touch... we had to make them contact sensitive - making sure they understand the contact and where you want to do gestures like flicking."
Flick said Infragistcs accessed research from Microsoft's Surface team to understand different use cases for applications and Surface.
"There's a lot of math behind it," Flick said of the re-engineering work. "First: understanding there was a finger push down on the control, second: take a reading of what the reader was doing with the control. After that, there's processing behind that: if you are on a chart control and doing rotation and dragging finger - do you compute that?"
Unveiled in may 2007, and running on Windows Vista with a 30-inch display, Surface has turned into a minor hit among geeks and those in certain vertical sectors, notably retail and travel. One reason Surface remains niche is its price: between $12,000 and $15,000 per unit.
Sheraton Hotels and Resorts in 2008 said it was rolling out Surfaces at lobbies of its hotels in five US big cities, to provide guests with maps and photos. InterContinental Hotels and Resorts announced its first rollout this year with maps and check in. IHG, which piloted Surface, plans to rollout the table to 158 hotels.
Infragistcs will decide whether it re-engineers more components for Surface pending feedback from the CTP. Flick, though, called the exercise valuable research that wouldn't go to waste if they didn't.
He said the CTP is valuable not just in terms of support for Surface but also in how Infragistics looks at other devices, such as Windows 7 which has touch APIs, and mobile.
"It's our first foray into the multi touch world, " Flick said. "If it turns out we have a huge developer market of Surface developers that's something we may cater to, but no effort is wasted. I feel strongly about touch and multi touch. Anything we do here long term makes sense." ®