Clove confirms Acer Liquid Android phone launch
Weeks, or possibly days, to go
Acer's Liquid A1 smartphone will hit Blighty this month, it has emerged.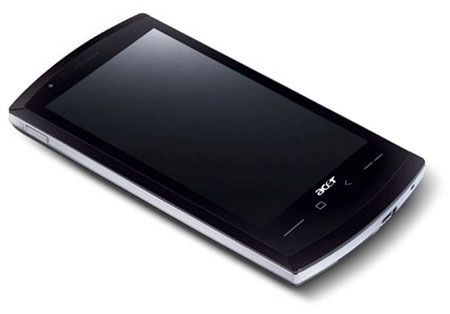 Acer's Liquid A1 smartphone: out later this month through Clove
Said to be the world's first smartphone to combine an 800 x 480 touchscreen with Qualcomm's 1GHz Snapdragon processor and version 1.6 of Android, the Acer handset will be available from online retailer Clove during "late November".
Processor and OS aside, the Liquid A1 features a 5Mp camera and supports both 802.11b/g Wi-Fi and HSDPA speeds of up to 7.2Mb/s. Bluetooth also features on the phone, Clove added.
The 115 x 62.5 x 12.5mm Liquid A1's other treats include a Micro SD memory card slot, 3.5mm headphone jack and talk time of up to 300 minutes.
Clove is currently taking pre-orders online for the SIM-free phone, which has been priced at £328 ($551/€370) including VAT. ®