HP Envy 15 'Lynnfield' Core i7 laptop
Inside, Intel's most powerful mobile CPU yet
Review It might be more accurate to refer to HP's latest laptop as the 'Apple Envy', as the design of the machine so closely mimics that of Apple's MacBook Pro range. But, to be fair to HP, it hasn't simply copied Apple. It has added some nice touches of its own, and its use of the Intel Core i7 processor ensures that the Envy 15 outdoes its Mac rivals when it comes to performance.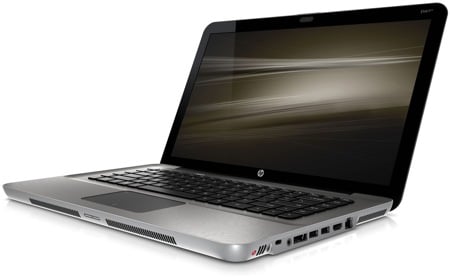 HP's Envy 15: Apple MacBook Pro inspired?
The Apple influence is obvious even before you set eyes on the Envy 15. The packaging has clearly been modelled on that of the MacBook Pro, right down to the little cardboard tab that lets you lift the laptop out of the box.
The comparisons continue as you slide the Envy 15 out of its silky cloth cover – it has the same aluminium body work as the MacBook Pro, a similar keyboard with flat, black, square keys raised a little above the surface of the machine's recessed keyboard area - it's not backlit like the MacBook Pro's keyboard, though - and the large, buttonless trackpad immediately in front.
But, as we mentioned, there are a few differences that make it more than just a lazy Apple clone. The first thing we noticed – apart from the tasteful etching on the aluminium casing – was how light the laptop is. The spec sheet says that it weighs 2.35kg compared to 2.5kg for a comparable 15in MacBook Pro, though it actually felt quite a bit lighter than the Apple laptop to us.
And then we noticed the optical drive still sitting in the box. HP has jettisoned the internal optical drive you'd expect to find in a 15in notebook in favour of an external USB unit. Unlike Apple, which charges £65 for the external DVD burner it offers to MacBook Air owners, HP includes the external LightScribe-compatible dual-layer 8x DVD±RW as standard. That alone was enough to make us feel more kindly towards the Envy 15 as we opened it up to take a closer look.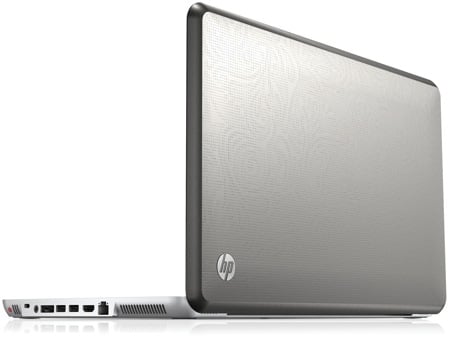 'Would you like to come up and see my etched laptop?'
Folded flat, the Envy measures just 26.5mm thick, and it's just about light enough that you can pick it and carry it comfortably in one hand – not bad going for a model with a 15.6in screen. The power socket sits on the left-hand rear corner, with most of the connectivity ports ranged along the right-hand edge of the unit. There are three USB 2.0 ports, one of which combines both USB and eSata; a combined headphone/mic audio socket; Gigabit Ethernet; and an HDMI interface for connecting the Envy to an HD TV.
Sponsored: What next after Netezza?