Cisco and the war for, um, hosted email
Anything GooIBMsoft can do...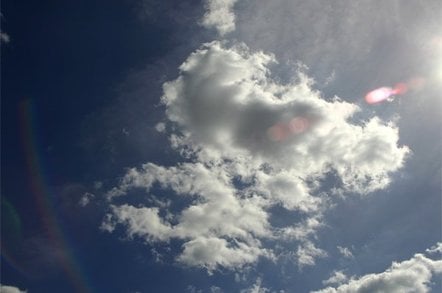 Cisco Systems tossed itself into an increasingly contentious market last week with the debut of its very own hosted email service. Yes, contentious.
Business email, so it seems, hasn't been interesting in an extremely long time. Like breathing — you rarely notice it unless it stops. But now its become a veritable clash of the titans between Google, IBM, Microsoft, and Cisco. Each company is eager for their own piece of the web-hosted email racket, which has become the new gateway drug to buying expansive enterprise collaboration software.
Our latter entry into the hosted email circuit is — and we shudder to say this about ever-consuming Cisco of all things — somewhat of the underdog. The company is not particularly known for software. Except for WebEx. So there may be some wisdom in its branding the service "WebEx Mail." It immediately pins the service with a web conferencing platform and Cisco software-as-a-service platform that a good number of businesses actually know about.
But WebEx Mail still has the smell of fresh meat when compared to rivals.
"Cisco does not have a ton of experience in email in general and hosted email specifically," said Bill Pray, an analyst at the Burton Group. "There are going to be some learning curves for them. This will be a journey — it won't be an overnight sensation or success."
Pray, however, feels Cisco's hosted mail excursion does have some promising prospects.
Despite rubbing up against the venerable likes of Google's Gmail, IBM's Lotus Live iNotes, and Microsoft's Exchange Hosted Services, the market is still young and growing with plenty of customers ripe for the plucking. And there doesn't seem to be a size limit on operations willing to go cloud these days either — the city of Los Angeles moved to Google Apps, for chrissakes.
And, really, what are companies even looking for in email? Lower cost and reliability arguably are the only real underlying factors here. (Until they've been wrangled into a broader collaboration suite at least). Cisco does have a decent reputation for reliability. Low cost? Well, Cisco does have a decent reputation for reliability. The company told us having an "enterprise-grade" system built from the ground-up for hosted email is going to be one of it's biggest pitches for the service.
"We based our introduction of WebEx Mail on the fact that we actually are a software company — although we may not be known for it," said Alex Hadden-Boyd, boss marketeer at Cisco's Collaboration Software Group. "With the acquisitions we've made of a number of software companies in the past three years, including WebEx, PostPath, and Jabber, we've really evolved that."
She argues that Cisco does have a background in email from its borging of PostPath, which she described as a "very successful" email vendor — albeit with a smaller niche clientele. The acquisition of PostPath also allowed Cisco to make a pretty shrewd move with WebEx Mail.
Convincing potential customers to switch from in-house email to shoving it all into the cloud is still the name of the game at this point. Using PostPath voodoo, Cisco's email client is currently the only non-Microsoft solution to offer protocol level (MAPI) support for Microsoft Outlook. While others can plug into an Outlook client, they do this through plug-ins on the front end. Native Outlook support provides the company with an good argument because a company wouldn't have to immediately switch clients across all its employees.