Casio designs camera for golfers
Able to analyse your swing
If you're looking to improve your golf swing, then ditch Fujitsu's mobile phone app and consider Casio's latest compact camera.

Casio's EX-FS10 could be the first camera to improve your golf swing
From what we can glean of Casio's Japanese announcement, the EX-FS10 features a swing analysis mode enabling it to determine how like Tiger Woods – or not – your golf swing is.
Images of the camera's rear-mounted screen hint that it knows where you are standing thanks to your golfing buddy lining you up inside a virtual "analysis grid". Complicated algorithms probably then help the camera locate long golf club-shaped objects, which it then tracks as you swing.
Post-put, videos of your birdies and eagles can be replayed on the camera's screen with helpful swing lines displayed. The blue line, we assume, is your actual swing, while the red line is probably the optimal swing.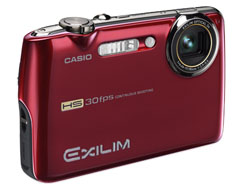 It also takes pictures...
As for the camera's other technical treats, it features a 1000fps burst mode – probably only available in golf swing mode – a 9.1Mp image sensor and 3x optical zoom.
Casio's EX-FS10 will be available in Japan later this month, priced at ¥33,143 (£221/$361/€247). A UK launch date or price hasn't been confirmed. ®