Intel P55-based motherboards
The best boards for 'Lynnfield' Core i5s and i7s
We were unimpressed by the bizarre shades of off-white and orange that Biostar has used on the memory slots and SATA connectors. The orange and lime green combo on the expansion slots also leaves us cold. These are cosmetic issues and the layout of the board is perfectly acceptable despite the crowded nature of the TPower I55 and the general sense of busyness.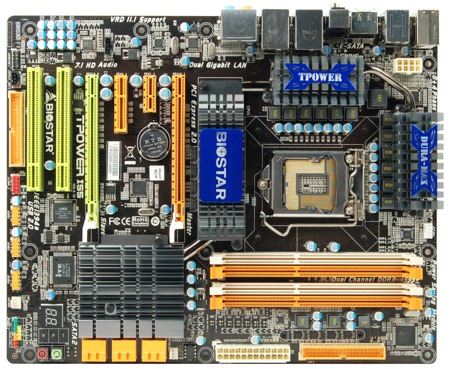 Curious colour scheme
This feeling extends to the Bios which is packed with an array of features that can get rather confusing. For instance, the SpeedStep and Turbo Mode settings are hidden away under Intel PPM Configuration, and the SPD information for each module of memory is to be found within the grandly titled Biostar Memory Insight section.
Biostar supplies overclocking features in the O.N.E. (Over-Clocking Navigator Setting) section, which has Normal, Auto and Manual options.
Auto gives you three choices called V6-, V8- and V12-Tech Engine. However, the Bios doesn't tell you the proposed clock speeds until you save and restart. We found that V6 raises the base clock to 135MHz for a CPU speed of 2.97GHz; V8 is 140MHz and 3.08GHz; and the fastest, V12 setting gives a base speed of 145MHz and a clock speed of 3.19GHz.
Those settings are very modest, as our Core i7 870 will overclock to 3.98GHz. Unfortunately, the Biostar system blue screened on each of the three settings.

We resorted to manual overclocking and got the speed up to 3.63GHz but were unable to find an option for setting QPI/IMC voltage and feel that this held us back in our efforts.
Reg Rating 75
Price £140 Click here for the best online price
More Info Biostar's website