Without the phone functionality, admittedly not all of the Google Experience apps make sense - but it would still be nice to have them on there anyway, if only to stop people scratching their heads trying to work out where the Google apps they've seen on Android phones have gone.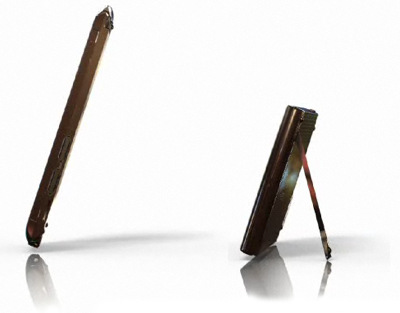 Nice and thin - at least, the SSD version is...
Moving onto the hardware itself, the design has changed little from the previous model. It's available with either solid-state or spinning disk storage. The former comes in 8GB, 16GB, 32GB or 64GB capacities, measures 143.2 x 78.8 x 10.4mm and weighs 182g. The hard drive models offer either 160GB or 500GB of storage and are the same dimensions front on, but are almost 10mm thicker and weigh an extra 104g.
The front is filled by a 4.8in, 800 x 480 touch-sensitive screen and you're limited to just three physical buttons on the top: volume up and down, and power.
Over on the left hand edge, the 3.5mm headphone jack has been joined by a standard micro USB port which, while not as common as mini USB, is a least pretty easy to get hold of if you lose the cable or you want a spare. The micro USB doubles as both PC connection and charging power source.
The same two proprietary USB ports are present on the bottom but there's now also a Micro SD card slot so you can easily slide in more storage. It supports SDHC cards, so you can add in another 32GB of solid-state storage if you run out of space. Finally, round the back, you'll find a stand, so you can watch video hands-free.
The screen is glossy, so naturally more reflective than a matte finish, but not to such an extent that it's distracting when you're trying to watch a film. The touchscreen, however, does take some getting used to.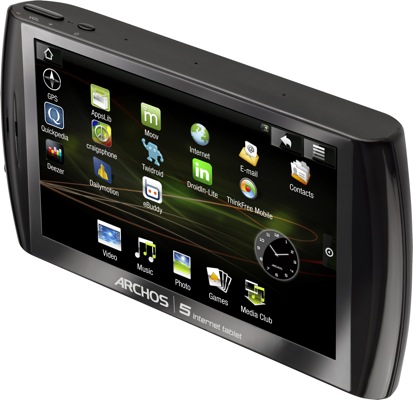 The hard drive model is a bit more chunky
Unlike something like the iPhone, which is a solid sheet of glass, the Archos' screen feels very plasticy and not as responsive. As it's so big, it's also quite difficult to scroll across it in one go without your finger sticking and then juddering and jumping to another spot. You can control it with non-living objects like the top of a pen, however, which makes for a much more responsive experience, but feels a tad old-fashioned, like using a stylus on a smartphone.
Sponsored: How to simplify data protection on Amazon Web Services