Matrox makes eight-screen graphics card
16 DisplayPort and DVI links on board
Matrox has introduced what it claims is the world's first single-slot graphics card capable of driving eight monitors simultaneously. A boon for gamers? Maybe, but the business-oriented M9188 card is going to cost 'em.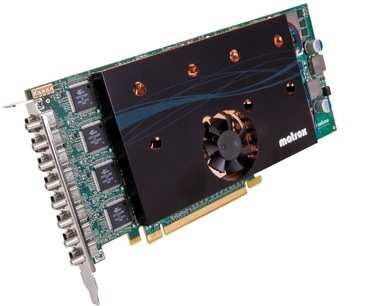 Matrox's M9188: 16 ports on a display card's chest
Yes, Matrox wants $1995 (£1192/€1332) for the PCI Express x16 card, which has eight DisplayPort connectors and eight single-link DVI ports hanging off the back. Clearly, there's not room for eight DVI ports, so the M9188 uses smaller connectors which feed an octet of DVI adaptor cables.
The DPs are all Mini DisplayPorts too, again bundled with adaptor cables that terminate in full-size ports.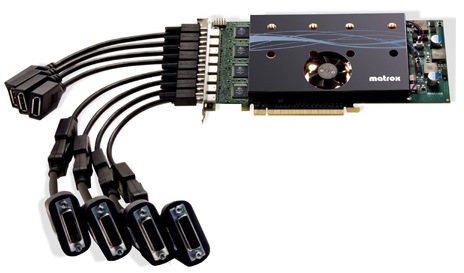 Dongle-tastic
The DPs can drive 2560 x 1600 displays, while each DVI port is limited to 1920 x 1200. The card can support eight separate screen images or - depending on your choice of operating system - one single image.
Matrox touted its "robust" support for Windows XP - many corporates still haven't upgraded beyond this - and Linux, but it said the M9188 has Windows Vista and 7 drivers, in both 32- and 64-bit versions. It supports OpenGL 2.0.
The M9188 goes on sale later this quarter, Matrox said. ®