Phones 4u have taken a rather modernistic stance with new website idents that show Santa Claus pissing on the company logo having knocked back a few tinnies.
While sherry is generally known as the preferred tipple of Father C, this incarnation is busy knocking back beer with a fag in his hand, and he hasn't even managed to put any trousers on.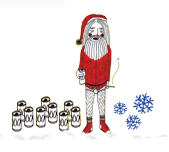 Surrounded by cans of what appear to be Australian lager, he proceeds to somewhat inexplicably express his telephonic preference by pissing over the Phones 4u logo.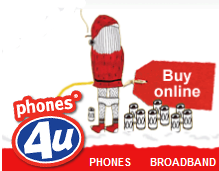 Be sure to wash your hands after touching that logo
For the full page in glorious Reg vision, click hither.
We can't help thinking that Phones 4u isn't really channelling the spirit of Christmas, or perhaps that's what passes for seasonal entertainment in Newcastle (where Phones 4u is based)?
We're more concerned about what the reindeer might think, and how he's going to manage to conquer the Martians after all that grog. Still, the seasonal doodles are at least less annoying than that telly campaign with the stupid hand sign and the bellowing and all. ®
Sponsored: Webcast: Ransomware has gone nuclear