No jobs recovery for years
Public sector cuts jobs but services sector on the up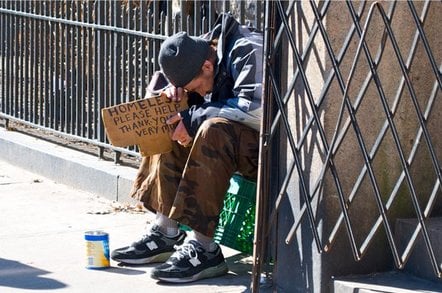 The UK jobs market won't show any signs of improvement for "several years" even if the economy returns to robust growth, a personnel body has warned.
The Chartered Institute of Personnel and Development warned today that the UK job market was "flat on its back".
While this might be construed as saying a decimated workforce was turning to the sex trade to tide itself over, what the body actually means is employment prospects are continuing to deteriorate, albeit at the slowest rate since the start of the recession.
The number of firms expecting to employ more staff in the three months to December was three per cent less than the number expecting to employ fewer. This -3 per cent balance was an improvement on the -19 and -10 per cent balances seen in the last two surveys.
However, the balance in the manufacturing sector was -21 per cent, while private sector service (consultants, bankers, etc) showed a positive balance of 11 per cent.
Private sector techies - who've been subjected to wage freezes, short time and the like over the last year - might be amused to see the balance in public sector administration was -18 per cent, as a tax-strapped public sector begins "shedding jobs significantly".
Gerwyn Davies, CIPD public policy adviser, said the UK jobs market was still flat, but "things aren't anywhere near as bad as they were earlier in the year when redundancies spread through the economy like a virus".
He added, "With things looking up in one or two sectors there is mounting hope that the ongoing gradual decline in job prospects might run its course next year before unemployment reaches three million.
But even if robust economic growth occurs, the jobs market won't recover for some time, while a weak recovery could tip the market back into decline. ®