Elgato DTT Deluxe
World's smallest USB TV tuner
In short, EyeTV 3 does all you'd expect a DVR to do. The only trick Elgato seems to have missed is, given how small the Deluxe is, adding the ability to use two of the tiny tuners to let you watch one channel while recording another.
Terratec Home Cinema, the Windows app Elgato bundles with the Deluxe, doesn't appear to either. You can use multiple tuners, but only one at once. THC isn't as visually attractive as EyeTV, but it provides the same level of DVR functionality with more settings to tweak than you can shake your pocket protectors at.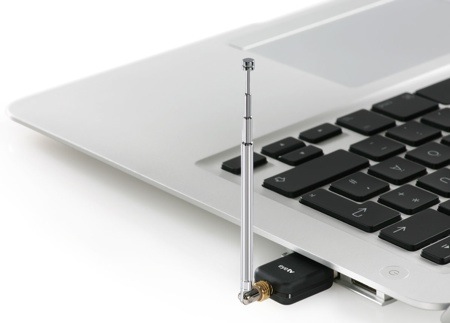 Perfect for all types of skinny laptop
Incidentally, in addition to the Windows driver for the Deluxe - it's for Windows 7, but it also worked on our WinXP netbook - Elgato has also supplied drivers for the previous version, its Diversity, Hybrid and EyeTV Sat tuners, though these aren't fully certified. The Windows 7 support means the Deluxe will work out of the box with Media Center if you prefer that to THC.
The new DTT Deluxe costs £80. Elgato's standard DTT, which does the same job, only costs £50, so you're paying a lot extra for the miniaturisation. As such, it's hard to recommend the Deluxe for anyone setting up a desktop-style media centre - you shouldn't need to care about the tuner's size, so go for the cheap one. The DTT comes with EyeTV, but not Terratec Home Cinema, but Windows users have plenty of other cheap tuners to choose from.
However, the Deluxe comes into its own if you have a netbook or thin'n'light laptop. Here, it's the ideal compact, no-fuss offering that'll get you telly on your portable PC, and it's small enough to leave connected permanently, if you're careful.
Verdict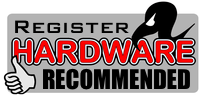 The DTT Deluxe is so tiny and cute it's hard not to find it appealing despite the £30-odd premium you'll pay for it over any other basic USB TV tuner. It's the tuner for thin'n'light laptops and netbooks - whether they run Mac OS X or Windows - where size and portability really matter. ®
More Elgato Reviews...

Video
Capture

Turbo.264
HD

EyeTV
310 HD

EyeTV
DTT
Sponsored: Detecting cyber attacks as a small to medium business

Elgato DTT Deluxe
Tiny yet fully functional, the DTT Deluxe is the ideal digital TV tuner for netbooks and thin'n'light laptops.