Second-gen TTxGP e-bike unveiled
'Laptop on wheels' available to buy
Leccy Tech The organisers of the TTxGP e-bike Grand Prix series have revealed their off-the-shelf electric superbike at the annual Speciality Equipment Market Association (SEMA) show in Las Vegas.
Called the Mavizen TTx02, the bike is based on the Agni X01 machine that won the inaugural TTxGP at the Isle of Man TT races in June 2009 and is aimed at privateer racers wishing to take part in the 2010 TTxGP series.
Can't see the video? Download Flash Player from Adobe.com
The 02 uses the same drive train as the Agni bike, including a pair of electric motors with a peak power output of 70kW (94bhp) and a continuous output rating of 40kW (53bhp). Depending on the gearing, the top speed is in the region of 130mph
To make the 02 as flexible a racing machines as possible, it will be available with three battery pack options.
The Circuit Pack will have a 6kWh capacity and is said to be good for around 25 miles of hard track use and 38 miles of 'hard' or 60 miles of 'gentle' road racing.
The Snaefell Pack is rated at 11kWh and should last 40 miles on the track or between 75 and 130 miles on the road and will be hot swappable.
Finally, there will be a 3kWh Sprint Pack which is aimed at track races of six miles or less.
The machine has a dry weight of 130kg which rises to 160kg with the 6kWh pack installed.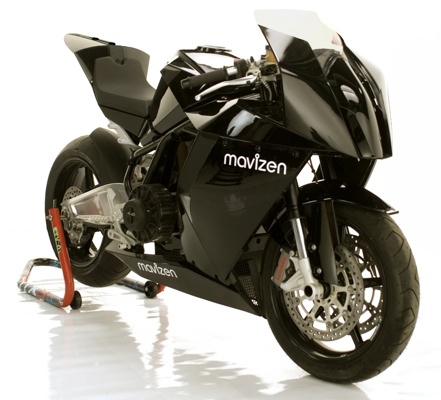 TTx02: yours for 25 grand
Mavizen didn't say from where the chassis was sourced other than it being one of the "world's leading motorcycle manufacturers". We have heard rumours it's KTM.
The 02's control systems are all Linux based, and each bike will come with its own IP address so teams can access telemetry data using a web browser. The bikes have a built-in web server and Wi-Fi radio.
The bike will also have a USB-based system bus. Cunningly, the USB port is hidden under what on a regular bike would be the petrol tank filler cap.
According to Azhar Hussain, the man behind both the TTxGP and Mavizen, the approach was to find how to "make a laptop go racing".
Sadly, there was no news of Mac version, though Mavzien did say they had tested a bike running Windows and were thinking about trying Android.
Production will be limited to 50 units and the price of the Circuit Pack machine is expected to be around £25,000 ($40,100/€27,780). Deliveries will commence in Q1 2010. ®