Conservatives promise 'lights on, lights off' IT policy
Budgets to go from 100w to 40w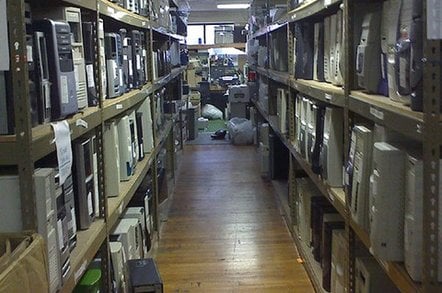 Government systems spend is about to be seriously slashed, with future emphasis being on small, open source, user-friendly projects. That was the message from key speakers at the Conservative Technology Forum on Monday, with a warning to consultancies and major systems developers grown fat on over-complex and excessive IT contracts that they are soon going to have to tighten their belts.
A combination of economic realism and a new approach to government use of IT means that current IT budgets estimated at around £16bn per year could be shrunk by at least 25 per cent, or £4bn.
Addressing the meeting, on the subject of "Who owns personal data?", Tory tech guru Liam Maxwell contrasted the present government approach - which he characterised as "Soviet-style" and "Stalinist" - with the way in which the internet actually works today.
He argued for reversing the present practice of building up larger and larger silos of central aggregated information, in the name of efficiency and top-down service.
Instead, he talked about implementing smaller less risky developments, which would be iterative in nature, allow individuals to retain personal control over their data, and build over time to create a functionality that was far more responsive to the public's needs.
He spoke favourably of the Amazon approach, in which a service provider set up a structure, and allowed individuals to populate that structure directly: he liked the flexibility of the private sector applied to the public one.
An incoming Conservative administration would reverse the presumptions around ownership of data and institute a policy of "Government Relationship Management". The whole would be based on a Whitehall adoption of open source standards, as a means to break the reliance on the traditional large suppliers – and cloud computing.
He stressed that access to services for all meant that it was probably time to abandon the creation of enormous systems into which every single individual was shoehorned, no matter what their needs. The technology use profile of some individuals in receipt of state support meant that "sometimes a case worker was a better solution than an IT system".
While the Conservatives would not instantly cancel big projects, they did envision two parallel projects being put in place the moment they arrived in government. The first "Lights off" project would honour existing contracts, but slowly run down over-sized and inappropriate systems. The second "Lights on" project would be a commitment from day one to the building of parallel, flexible, personally controlled data systems.
The underlying presumption would be that citizens own their own data and gave government permission to use it on a case-by-case basis.
Rik Ferguson, a Solutions Architect at Trend Micro, also addressed the meeting. He spoke favourably of the initiatives proposed by Liam Maxwell – and also raised the issue of data deletion. How can individuals control their data after they have given initial permission for its use? How can someone be sure, once they have deleted something, that it is gone for good? He suggested that these issues that would be of growing importance over the next decade.
The mood in the rest of the meeting was broadly favourable to the approach. Typical of attendee attitudes was that of Martin Rice, CEO of Erudine, a systems developer and consultacy that specialises in helping companies to escape from the straitjacket of legacy systems.
He said: "Government is run on back office IT that is a tangled mess of legacy software running on often near obsolete hardware. This is governed by a web of service level agreements and contracts and beset by empires that ensure the status quo is kept alive – along with the vast bills that the taxpayer is left to foot."
The meeting was chaired by MEP Malcolm Harbour and also attended by Adam Afriye, MP, Shadow Minister for Innovation, Universities & Skills. ®