Sony Bravia KDL-46Z5500 200Hz 46in LCD TV
Striking picture quality
Turn to Freeview and the images were extremely good – the standard definition picture benefiting from the Bravia Engine upscaling to make it shine. Sport looked good, with no ghosting or after-images on football or Formula One. Sony's MotionFlow feature and the 200Hz processing combined to handle everything well, with little or no motion judder or annoying artefacts on screen – all without the need for intrusive tinkering. This is an excellent set, then, for day-to-day viewing.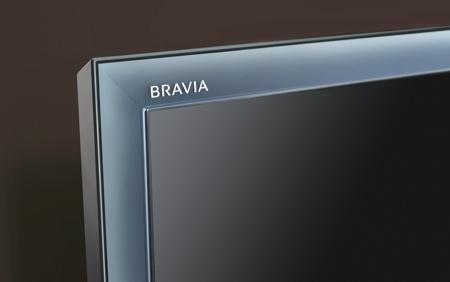 Stylish design
There are other features to note, like the connection to Sony Applicast. The Ethernet cable socket on the side allows you to watch TV and use web-based applications simultaneously. These are limited to items like an RSS feed, calculator and calendar. To our mind, if you have a great-quality, large-sized screen like this you should be looking at Blu-rays - the Z5500 does 24p cinema input - HD broadcasts or even Freeview in as much glory as possible, not zoning part of it out to make room for other features. Especially when sharp, detailed imagery is where this panel excels.
There's an eco-friendly side to this TV, too. It has been designed to use substantially less power than earlier models – over a third, Sony claims – and if you're listening to digital radio through the TV, you can turn off the display altogether.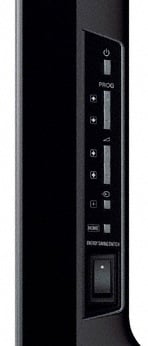 At last! At the bottom of the control cluster: a physical power switch
There's also an ecologically sound complete on/off switch. This telly has a proper spring-loaded switch so you can completely power down the set instead of leaving it in standby. Not every set has such a thing – often even turning off the standby light leaves a tiny current pulsing to make switch-on quicker. But this one has a proper switch like, you know, every TV used to have. Funny how things change, isn't it?
Verdict
Sony's TVs regularly offer stylish design, effectively implemented innovations and striking picture quality. And all that's true here. But this is a pricey TV and the attention-grabbing LED backlighting of rival sets may attract you instead. Despite this absence, the other features, like the excellent Bravia Engine 3 image processing set-up and the headline 200Hz frame rate, mean the image is sharp, bright and immersive. ®
More HD TV Reviews...

Sharp
Aquos
LC40LE700E

Philips
Cinema 21:9

Panasonic
Viera
TX-P42G10

Toshiba
Regza
37AV615DB
Sponsored: Practical tips for Office 365 tenant-to-tenant migration

Sony Bravia KDL-46Z5500 200Hz 46in LCD TV
Big, sleek and beautiful, this Bravia has a lot going for it. Even if it can't count LED backlighting among its image boosters, it's a great performer.