AMD is no stranger to banging a couple of its high-end GPUs onto a single graphics card, connecting them in CrossFire mode, and offering the result as a top-of-the-line gaming card. World+Dog expects it do the same with its Radeon HD 5870 chip - reviewed here - and here it is.
Unofficially, mind, courtesy of a card leaked to fansite AlienBabelTech. It may be called the Radeon HD 5870 X2 or possibly the Radeon HD 5970. Either way, it has a pair of 5870s.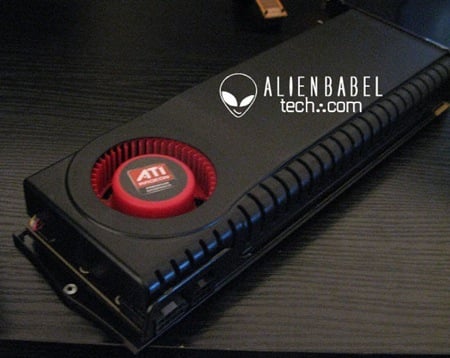 AMD's Radeon HD 5970/5870 X2: guess what, it goes like stink.
The two-slot - surprise, surprise - board is 337.5mm long, which may challenge a fair few PC cases. It takes power from a six-pin and and an eight-pin feed.
The board is a big black with a fan port two-thirds of the way along the front from the backplane, with the two GPUs placed side-by-side in the remaining space. Nothing, in short, anyone who's seen one of AMD's other X2 cards couldn't have guessed.
AMD subsequently told the site that the board is an engineering sample not finished product, so hopefully it'll shave a centimetre or so off the end so the card fits better. ®
Sponsored: How to simplify data protection on Amazon Web Services