T-Mobile Pulse
The Googlephone for everyone?
You may not come across it playing around with the phone, but the Pulse has a compass built in. We found the A-GPS system to be very quick to locate our position and maintain an accurate fix while we were moving. It's a shame there's no full satnav app inside, though Google is at least working on one for Android 2.0.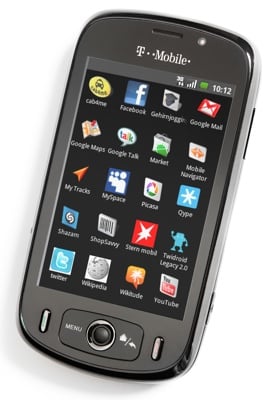 The apps are the key to Android
The Android Market app is where you can find all the exciting software customisation stuff that helps makes the Android platform so appealing. It's neatly arranged, simple to navigate and search, and the download process is speedy and hassle-free. There may not be as many apps as in Apple's App Store but it's growing fast and there's plenty of free stuff to try out.
A few third-party apps are pre-loaded too, including Documents To Go, a document viewer for Excel, Word, PowerPoint and PDF files which can be upgraded to a full editing and document creation tool. A suite of DataViz's RoadSync software provides full remote synchronisation with Microsoft Exchange Server corporate push email, contacts and calendar.
The Pulse's applications sync neatly with any online Google services you use. A USB cable is supplied for hooking up to a PC for synchronisation or to use in mass storage mode. We were unable to test its PC Suite software, however, as none was supplied with our review sample.
The Pulse gets the basics right when it comes to call quality and network performance. Voice calls came over clear, and we had no complaints about the volume.
Battery life is reasonable. The Pulse comes with a 1500mAh battery pack, and T-Mobile estimates it can deliver up to 210 minutes of talktime or 300 hours on standby. In our tests, with extensive use of the phone's features, we found ourselves re-charging every day.
Verdict
The T-Mobile Pulse is a terrific value Android smartphone for pay-as-you-go types. It may not have the extensive re-skinning that other more expensive Android phones flash around, but it still delivers a great user experience and has all the customisation flexibility this user-friendly platform allows. There may be some compromises - the camera, for instance - but with Wi-Fi, HSPA, Assisted GPS, a large touchscreen and a decent bundle of applications, the Pulse is far from light on functionality. All round, this Pulse takes some beating. ®
More Android Smartphone Reviews...

Motorola
Dext

HTC
Hero

Vodafone
Magic

T-Mobile
G1
Sponsored: Becoming a Pragmatic Security Leader

T-Mobile Pulse
T-Mobile's affordable Android smartphone delivers plenty for your cash.