Barnes & Noble nobbled for 'nicking' Nook-e Reader notion
Sued for 'stealing idea' from business partner
Spring Design is suing Barnes & Noble for allegedly stealing its e-book reader designs.
The Cupertino-based company announced its own dual-screen viewer, the Alex, in October, but claims that since the beginning of the year it's been in conversation with Barnes & Noble under a mutual non-disclosure agreement, during which time, it claims, the publisher nicked the design for its own Nook product.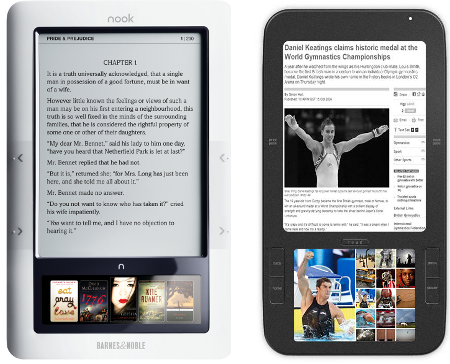 Spot the difference, the Nook is the one on the left
Spring Design claims it had "meetings, emails and conference calls with executives ranging up to the president of BarnesandNoble.com, discussing confidential information regarding the features, functionality and capabilities of Alex", throughout which "marketing and technical executives extolled Alex's 'innovative' features, never mentioning their use of those features until the public disclosure of the Nook".
Spring isn't the only e-book reader manufacturer with whose affections Barnes & Noble have apparently been toying: Plastic Logic announced it would be putting its QUE reader into Barnes & Noble shops a while back, and denied all knowledge when the first rumours of the Nook's colour capabilities were circulated, so clearly had no knowledge that its partner was planning to become its competition.
It seems likely that all the readers will support EPub, along with Adobe's Digital Editions DRM, so it's possible for Barnes & Noble to support them all with content, and the chain has enough shelf space to accommodate a range of readers. But it seems it may fall to the courts to decide who came up with the idea of a dual-screen-Android-based e-book reader first. ®
Sponsored: What next after Netezza?