Microsoft's SQL Server gets appliance of iron
Test code challenges Oracle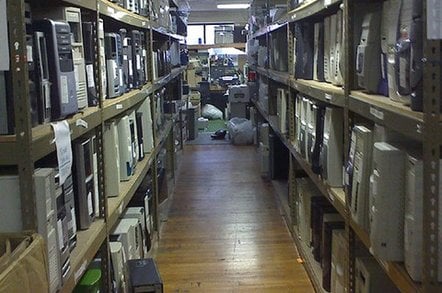 Near-final code for Microsoft's next SQL Server database is due today, wrapping in hardware from partners to help counter Oracle's proprietary Exadata appliance.
A second SQL Server 2008 R2 community technology preview will be delivered for testing at Microsoft's Professional Association for SQL Server (PASS) conference in Seattle, Washington. Launch of the finished product is due the first-half of 2010.
Today's code features the planned SQL Server 2008 R2 Datacenter Edition, for machines with up to 256 logical processors and that will let you run an unlimited number of virtual machines per license. SQL Server Enterprise edition is limited to 64 cores and four virtual machines per license.
Microsoft will also unveil 13 appliances from Bull, Dell, Hewlett-Packard, and IBM whose hardware has been tuned to the SQL Server 2008 R2 Parallel Data warehouse.
IBM is the new player joining Microsoft's SQL Server Fast Track Data Warehouse program with three machines tuned to Parallel Data Warehouse. Bull, Dell, and HP have updated their existing hardware configurations to support this latest version of SQL Server.
Data Warehouse, codenamed Madison, is based on large-scale data-analysis software it bought in 2008 with DataAllegro and snatched away from open-source database vendor Ingres.
The idea is to deliver fast search and analysis by turning SQL to clustered hardware with fast through put.
Appliances from OEMs running Parallel Data Warehouse will feature configurations of between four and 4.8Tb with the price starting at $13,000 per terabyte. Code for Data Warehouse is only available on the OEM's machines, and you'll need to contact your Microsoft rep if you're interesting in buying one.
Microsoft's been talking about Data Warehouse for just over a year, and with the expanded adopter program is in line while this milestone is part of the company's roadmap today's announcement it comes in the wake of database-giant Oracle's second software-and-hardware appliance Exadata, built on Sun Microsystems' Sparc and Solaris.
Oracle's pitching its second Exadata as an Online Transaction Processing (OLTP) machine instead of a fast, but relatively simple, cavernous warehouse. A number of Oracle customers speaking the company's recent OpenWorld said they'd been using the first Exadata for OLTP.
Fausto Ibarra, Microsoft director of product management for SQL Server, said the advantage of Microsoft over Oracle and Sun is you get choice of hardware and lower total cost of ownership because customers aren't locked into the proprietary Sparc and Solaris. As ever, Microsoft is drawing on x86.
Continuing SQL Server 2008 R2's focus on data analysis is the fact it'll include what Microsoft's called managed self-service business intelligence (BI). That means features that will let users build their own BI tools using in-memory analytics with Excel and publish these to other users through SharePoint and SQL Server. Also, there will be the ability to combine heterogeneous data sources for a unified view of customers and data.
On the administrative side, SQL Server 2008 R2 supports Microsoft's Hyper-V for live migration, plus the ability to manage thousands of SQL Server servers and to routinely apply policies. ®