Scots slam Germans for 'tight-arsed' slur
Schotten Preise a cheap jibe, says SNP
The Scottish National Party has decided to take the Germans to task for commonly insinuating that our Caledonian cousins are a bit tight, The Telegraph reports.
Those from the land of Lederhosen, Bratwurst and Sauerkraut apparently associate the Scots with thrift - something reflected in the term Schotten Preise, which they use to punt "products ranging from fast food to low-cost holidays", and discount store names prefixed with "Mac".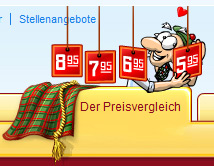 Price comparison site Geizkragen, for example, uses a happy cartoon Jock complete with tartan hat and kilt combo "advising Germans how to save money" (see pic). German motoring club ADAC went one better, and sent its 15 million members an email "featuring a kilt-wearing Scot pushing his car to save petrol".
All this has proved a bit too much for the SNP, which will now "lodge an official complaint with Germany's advertising association". Angus Robertson MP, the party's Westminster supremo, and who's obviously not a fan of "starved to death on the back seat of a pay-as-you-leave bus" jokes, decried: "It doesn't have to be this way. You wouldn't do it with orthodox Jews, so why do it with Scots? The constant association of our country and people with meanness and cheapness is beginning to hit at the borders of defamation and insult."
Geizkragen's founder, Oliver Flaskamper, explained that his comedy Scot was meant to be "endearing". He defended: "We have never had any complaints, even though we are near a British army base with a lot of Scottish soldiers."
Not all Robertson's fellow Scots are so het up about Germany's haggis-flavoured racial stereotyping. Conservative MSP Alex Johnstone called the SNP action "a kind of political correctness we could well do without", and reckoned Robertson should act "in a more light-hearted and engaged way".
In any case, the leader of the Lower Saxony tentacle of Germany's Christian Democratic Union, David McAllister, "warned it would take years before Germans dispense with the stereotype of Scots as skinflints". McAllister, who's of Scottish descent, concluded: "Germans are generally careful not to employ national stereotypes. But there seems to be one nation exempt from that, and that's Scotland." ®
Bootnote
Thank God we Brits never resort to this kind of cheap national stereotyping, as any bicycle-mounted, onion-selling Frenchie in a stripy jumper and beret can confirm.