Nokia 6303 Classic
A no-frills phone just for talking on? Surely not?
The screen isn't all that large - just 2.2 inches across the diagonal - and its 240 x 320 pixels are very much average. But the screen is clear and readable both indoors and out.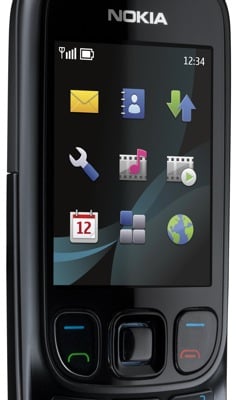 The screen is very readable, indoors and out
The handset can be charged from a standard small Nokia charger, as you'd expect, but not over USB. The micro USB connector on the device is purely for PC synchronisation, and Nokia supplies the shortest charge cable we've ever seen - just 20cm long, which might be unwelcome or a joy depending entirely on whether you're a laptop or desktop owner. PC Suite is provided on the 1GB Micro SD card that augments the phone's 17MB of internal storage. Nokia says the phone will support cards to 4GB, though it had no trouble with a 16GB SanDisk card we tried.
The charge and sync connectors are on the bottom of the casing where you will also find, joy of joys, a 3.5mm headset connector. This being a mid-range phone you might expect Nokia to provide a mediocre headset, but in fact we found the quality of the earbuds to be rather good. If you disagree, at least you can use a different set easily enough.
The quality of the sound coming out of the handset's speaker was quite good too, and the phone surprised us by delivering nearly 15 and a half hours of music non-stop from a full battery charge. The music player has an equaliser which has space for two user-defined presets, if you want to tweak what you hear, and there's an FM radio with RDS and 11 presets, if you forget to load the Micro SD card with songs.
The 6303 runs the S40 operating system and the broad range of bundled applications will be recognisable to anyone who has ever used a Nokia phone. There is mobile email alongside messaging, a voice recorder - you can't record from the radio, though - alarm, calendar, to-do list, notes maker, calculator, countdown timer and stopwatch as well as a few games.
To that list add Nokia Maps, which seems nice to have but, since the 6303 has no GPS pick-up, you can't pinpoint your precise location or get turn-by-turn directions. The 6303 doesn't even do cell triangulation to get an approximation of your current position. As it stands, you can find locations and plan routes, and if you add a Bluetooth GPS receiver you can get the navigation features too. Maps for the UK and Ireland are provided on the Micro SD card so there are no data charges for just looking somewhere up. Calling up your (known) locale is quick and easy.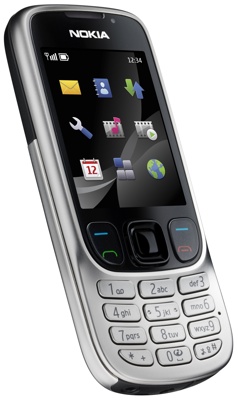 With no 3G or Wi-Fi, browsing isn't a joy here
It is a bit weird - though not unusual - that the Nokia has placed Maps in the phone's Organiser folder. Really, Nokia, why can't you just have the app sitting outside the folder structure instead of putting it somewhere obtuse like that?