Suzuki unveils fuel cell e-scooter
Hydrogen-powered runabout, anyone?
Suzuki has put British engineering centre stage at the ongoing Tokyo Motor Show, unveiling a scooter powered by a UK-made hydrogen fuel cell.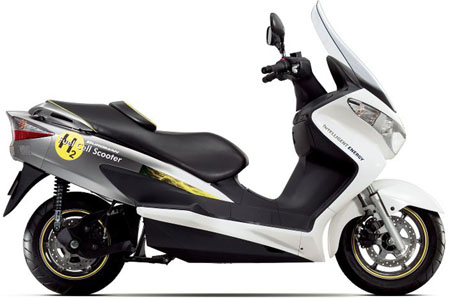 Suzuki's Burgman: powered by an air-cooled hydrogen fuel cell
Inside the Burgman Fuel Cell Scooter is a light-weight, air-cooled hydrogen fuel cell developed by British company Intelligent Energy.
Hydrogen is stored in a small tank at a pressure just north of 10,000psi (68.95MPa/689.5 bar), Suzuki said, and the bike – although still just a concept – would be capable of travelling up to 220 miles when cruising an average speed of 30kph (20mph).
To provide a little extra accelerative grunt, the bike would also feature a 500Wh lithium-ion battery that could be used to store energy created by the Burgman's regenerative braking system.
Suzuki added that the bike's performance should be roughly similar to that of a 125cc petrol scooter.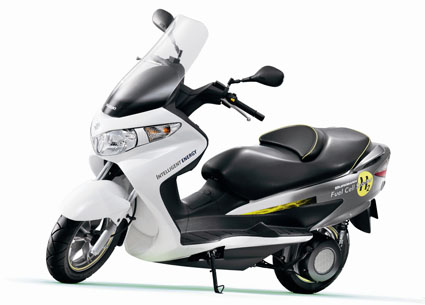 Register Hardware has been promised a ride
Although the firm hasn't announced plans to produce the Burgman on a commercial scale, Suzuki has promised Register Hardware a ride when working models land in the UK later this year. ®