PC World punts Windows 7 £100 trade-in promotion
Struggling High Street retailer hopes customers will take bait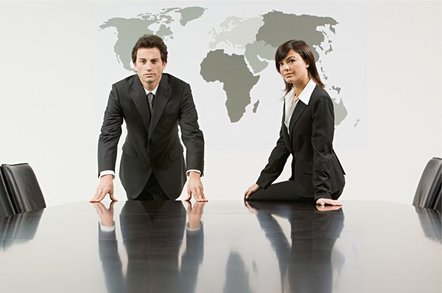 Windows 7 DSGi is betting big on Windows 7 sales with a special promotion clearly designed to convince more customers to visit the firm's not exactly bustling PC World stores.
From tomorrow PC World will be offering up to £100 off to anyone who trades in an old, working laptop for a Windows 7 machine.
The High Street retailer's computing director Jeremy Fennell, speaking at the Windows 7 launch in London this morning, said the company had already shifted more copies of W7 pre-orders than it had sold Vista for the whole of 2007, when the unloved OS first hit the consumer market.
"Windows 7 is a good product, it hasn't taken Microsoft to hype the operating system because its better than the product we've seen before," he said. "It answers customers' frustrations."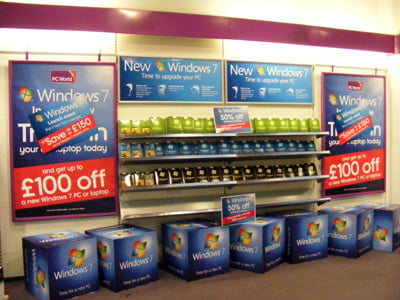 PC World hopes to see Windows 7 flying off shelves
Fennell added that PC World had surveyed some UK consumers about the imminent arrival of Windows 7. The firm found that many users were considering an upgrade but first needed a reason to do so.
However, 44 per cent of those questioned said they had no intention of moving onto Windows 7 yet. Meanwhile, 19 per cent said they would buy a new laptop, 15 per cent said they would upgrade their existing OS and 22 per cent said they were undecided.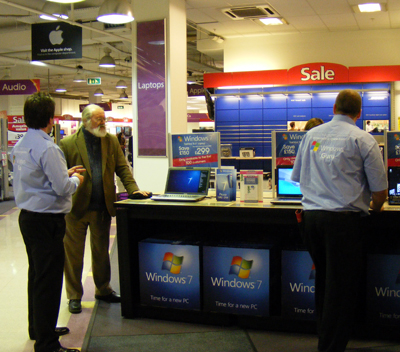 Windows 7 gurus in PC World store - don't look up!
Of course, simply pinning its hopes on Microsoft's latest operating system when it hits the shelves from midnight tonight could still fall short of DSGi's desire to draw a line under consistently bleak financial quarters over the past two years.
In September the company saw sales drop another six per cent in its first quarter. It largely blamed PC World for the decline after computer sales fell 17 per cent in Q1.
Shrink-wrapped software at deeply reduced prices is all well and good, but convincing thrifty consumers to spend money on the full kit and kaboodle could yet prove a stumbling block for a struggling retailer still suffering from a serious case of recession blues. ®