Watchphone winging its way to BlackBerry users?
Pictures emerge...
BlackBerry handsets could soon gain a wristwatch accessory if there's something to the online publication of images of a so-called "smartwatch" for the Research in Motion phone range.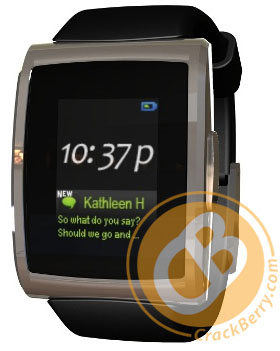 The inPulse watchphone is said to work with BlackBerry phones
The device in question is rumoured to be called the inPulse SmartWatch for BlackBerry smartphones and, although not officially licensed by RIM, has apparently been developed by a "BlackBerry-dedicated accessory company", according to a report by website CrackBerry.
RIM itself discussed a RIM-branded watch back in August, though its Alpha 1 was essentially just a Bluetooth-connected wristwatch capable of informing wearers that their BlackBerry had just received a bunch of emails.
The inPulse looks to be slightly more advanced.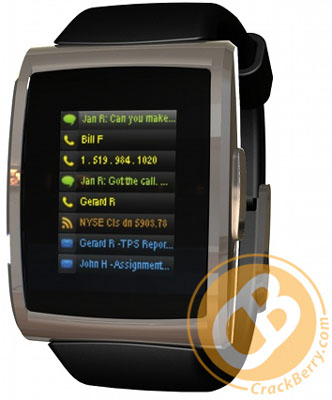 Will the OLED screen be touch-sensitive?
For example, the device is rumoured to feature an OLED screen capable of displaying text message notifications and previews. The panel may also be touch sensitive.
No mention is been made of videocall functionality – a featyre LG's GD-910 watchphone, reviewed here, already posesses. There's no indication yet that inPulse will permit wearers to make and receive calls from their wrists.
The source admitted the pics are "renderings", though it insisted they are of a real product. We shall see. The images aren't that well produced - we hope the accessory itself will be.
An official launch date or price for the inPulse SmartWatch hasn't emerged. ®