'Unbreakable' 6in bendy e-paper designed
To launch next year
Taiwanese manufacturer AU Optronics (AUO) has designed a supposedly unbreakable 6in e-paper screen that could go on sale next year.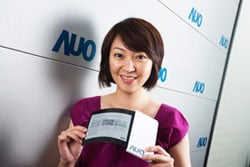 AUO's bendy and unbreakable 6in e-paper screen
AUO's flexible e-ink can display 16 levels of grey, has a 9:1 contrast ratio and a 33 per cent reflectance level, the firm claimed. The screen also only consumes power when the screen is refreshed.
Despite AUO describing the screen as "unbreakable", the firm made a said the screen's "curved radius" reaching 100mm. What happens if you push it further? AUO didn't say.
Larger models of the 6mm bendy could also be developed, AUO said, because its measurements can apparently be tailor-made according to customer needs. Though we assume that means retailers and distributors, rather than you or I.
AUO's bendy is by no means the first of its type. Plastic Logic, HP and US firm Universal Display Corporation have all shown off working prototypes before, although none has yet nailed down firm launch dates.
The first AUO bendy 6in e-paper screens will be distributed as samples next year, with the firm planning to start mass-production at some point afterwards. ®