Apple Store down - new cultware coming?
'We'll be back soon'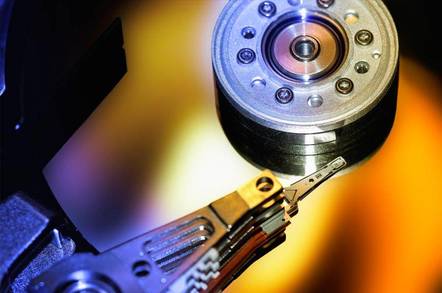 Apple has taken the Apple Store down for maintenance, which is generally an indication that new products are on the way.
The site has been down since at least 7am Pacific time Tuesday and remains down at 9:10am: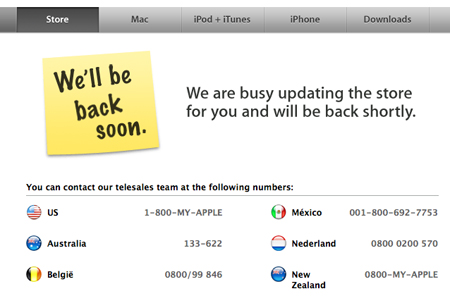 During its fourth quarter earnings call yesterday, Apple said would be hit with higher freight costs than usual during Q1 - the current quarter - for units unrelated to the iPhone. Many are guessing Apple is planning price reductions on Macs and some hardware to steal thunder from the release of Windows 7 this Thursday.
Meanwhile, AppleInsider has posted leaked number parts, which would seem to corroborate the speculation. Judging by the list, it seems that new Mac Minis, Airports, Time Capsules, and iMacs are on the way:
MC207LL/A – K84 BEST BTR- USA
MC238LL/A – MAC MINI 2.26/2×1GB/160/SD/AP/BT-USA
MC239LL/A- MAC MINI 2.53/2×2GB/320GB/SD/AP/BT-USA
MC340LL/A – AIRPORT EXTREME (SIM DUALBAND) – USA
MC343LL/A – TIME CAPSULE 1TB (SIM DUALBAND) -USA
MC344LL/A – TIME CAPSULE 2TB (SIM DUALBAND) – USA
MC408LL/A – MAC MINI 2.53/2×2GB/1TB/NO ODD/AP-BT-USA
MC413LL/A – IMAC 21.5″/3.06/2×2GB/1TB/4670-256MB-USA
MC434LL/A – APPLE VESA MOUNT ADAPTER
MC461LL/A – MACBOOK 60W MAGSAFE POWER ADAPTER – USA
We'll have more information as the Apple Store reopens its doors. Apple did not immediately respond to our request for comment. ®