Universal Remote Control R50
A little screen for your big screen
We found that after you had completed this process once, it was very quick to add in new products and most of the time the remote gets it right first time – although it did need a few goes to pick up our Thomson Sky box. If your product is not listed – for instance, we could not find a listing for any Bose kit for example – the remote can learn commands from a unit's original remote without too much hassle.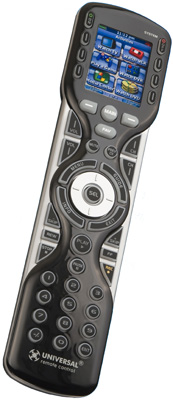 Macro command programming allows up to 255 steps
Features, such as adding favourite channels for quick access, are easy to apply. A handy 48 favourite channels are available and you can choose from on-screen icons or, if you favourite is not listed, use one of the blank channel icons and type in the name of the channel. As the product is from a US company, the channels choice is a little heavy on North American options, so a more UK or European spec would be helpful.
Setting up macros is more awkward though and we found some of the on-screen instructions rather vague. We did have to play with the product for a good half an hour before we really started to get the hang of dialling in a command series. A good tip – and to be fair the set-up guide does recommend this – is to add pauses into the list when building more complex macros for a greater level of success. A total of 255 steps can be added, which is more than enough for most homes.
Verdict
A satisfactory performer, with some helpful time saving functions, particularly during basic setup. There are also some other sensible add-ons, like a 'sofa' function which senses when the product is stuffed down the side and is having all its buttons pressed and switches itself off. The more demanding user might want something a little more advanced but, for the average AV set-up, the R50 does a decent enough job.
More TV Gear Reviews...

Digital Vision
GiGo DV-DTR1

Elgato
Video Capture

Emtec
Movie Cube S800

LG
DVS450H

Universal Remote Control R50
Versatile and easy to set up, although the macros take a bit of effort.