Motorist in laptop blaze
Exploding battery to blame?
A UK motorist recently had a lucky escape after a fire in her car's boot, which it's alleged may have been started by an exploding laptop battery.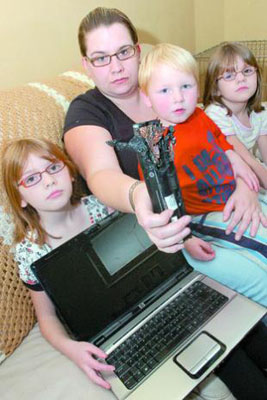 Sarah Williams with her damaged laptop and mangled battery
Credit: Hereford Times
Sarah Williams — aged 32 and from Hereford — was parked at some traffic lights when she suddenly heard a loud bang in her car's boot. The bang, which she described as similar to the sound of popping tyres, was followed by flames.
Luckily a nearby motorist — network support engineer Ray Wilson — came to her aid.
"He must have dragged the laptop out with some wood as the wood was singed," Williams told local newspaper the Hereford Times. "He stamped it out with his foot."
The laptop's make or model hasn't been disclosed, and it's unclear if the machine had been left switched on while in Williams's car boot.
Whatever the case, a picture of the woman holding the "laptop that ignited in her car" and a severely mangled battery was published by the local newspaper.
Thanks to reader Steve for the heads-up. ®
Sponsored: Webcast: Why you need managed detection and response