BlackBerry Storm 2 blows to Vodafone
Adds Wi-Fi and 'spongy' touchscreen
Wi-Fi is finally en route to the BlackBerry Storm, following Vodafone's confirmation that the Storm 2 will hit in its stores later this month.
Can't see the video? Download Flash Player from Adobe.com
Details of the Storm 2 – aka the BlackBerry 9520 - have been floating around for months. But the handset's manufacturer, Research in Motion, and Vodafone today confirmed to Register Hardware that the smartphone will be available to buy from 26 October.
A 9520 pre-order page will also appear on the network operator's UK website later today, a Vodafone spokesman promised.
The major difference – or should we say advantage? – between the two models is that while the first-generation Storm, released in the UK during November 2008, didn't support Wi-Fi – the Storm 2 supports 802.11b/g.
Although the Storm 2 features the same 3.2in, 360 x 480 display and 3.2Mp camera as the 9500, the new version's touchscreen supposedly has a 'spongy' feel to it – at least according to one blogger who held the phone back in August.
This spongy feeling, it turns out, is called SurePress - an "electronic suspension system" that provides you with tactile feedback when the capacitive touchscreen is pressed.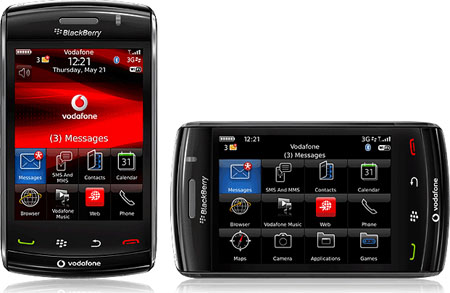 The BlackBerry Storm 2 will be out later this month
SurePress supposedly makes typing on the 9520's touchscreen more comfortable and accurate, RIM claimed, while also enabling you to type a letter with one thumb.
The Storm 2's other features include 2GB of storage – 1GB more than the 9500 - a Micro SD slot for cards of up to 16GB and background noise suppression technology.
The smartphone is also equipped with a 3.5mm headphone jack, Bluetooth and integrated GPS, RIM said.
Vodafone hasn't announced the Storm 2's official UK pricing yet, but as an indication, it said it will offer punters the smartphone for free on two-year contracts costing at least £35 ($56/€37) per month. ®
Sponsored: Becoming a Pragmatic Security Leader