Buffalo Linkstation Pro
No nonsense Nas box?
The built-in BitTorrent client is straightforward to use – pick a folder for your downloads, and then use the download manager web page to either browse for a torrent file, or enter the URL of one. We had no difficulty grabbing the latest Ubuntu release, and there are settings to limit bandwidth, if you wish. Without that, it happily maxed out our ADSL connection. It's a shame there's no desktop widget to kick off a download though, as you have to sign in to the web interface.
Still, there are some quirks to the LinkStation's interface. Apple's Time Machine backup is supported (for Windows users, Memeo is included), but setting it up isn't entirely straightforward. You have to enter the name of the Mac you want to back up, and it's Ethernet MAC address – both of which the manual explains you need to dig out of preferences panels.
It's a shame you can't simply browse for the information. Once you've entered the settings, you'll then see a message telling you that the backup disk is being created. What it doesn't tell you, but the manual does, is that you should wait around ten minutes before attempting to connect, otherwise you'll get an error from the Mac.
Another niggle we found here was that setting up Time Machine automatically enabled Apple's file sharing protocol on the share we chose as the destination. Fair enough, but another share was set to SMB only, and as a consequence it effectively disappeared from the Mac's browser, leading to much head scratching. Presumably, it's a Mac issue, but a warning note would have been useful. That aside, Time Machine appeared to work well, and it's certainly an alternative to Apple's Time Capsule, which is another £50, albeit with wireless.
The Media server is an improvement on older LinkStations, though there's not much in the way of configuration options, beyond setting a refresh period and picking a folder to share. You can allow USB drives to be shared too, and restrict access to specific DLNA clients, but that's about it.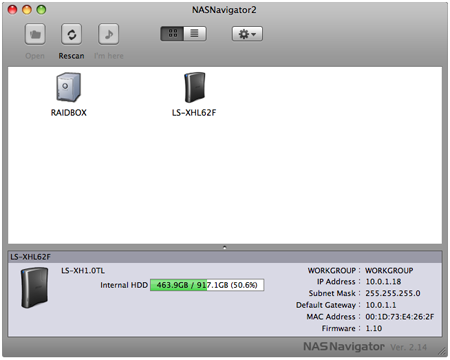 Buffalo's Nas Navigator includes a Mac version as well as Windows
It had no issues serving up a variety of files, including MKVs, to our streamer, and we were able to scan backwards and forwards through an HD stream without any glitches when we stopped, with perfect sync. iTunes spotted the music files, and happily played bought tracks that we'd copied to the LinkStation, too.