LaCie Starck
Famous designer tries hand at HDD enclosures
Review LaCie has long prided itself on taking a somewhat more idiosyncratic approach to hard drive styling than its rival manufacturers do.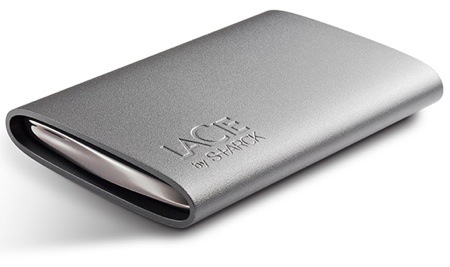 LaCie's Starck: not so much Iron Man, more aluminium, man
As the business has been gradually taken over by the companies that make the drives themselves - Seagate, Western Digital, Samsung and so on, all of whom have lower manufacturing costs than the likes of LaCie, the French company has dared to be different in order to differentiate.
Who can forget its bullion-style Golden Disk, the Lego-esque Brick, or the oddly named Skwarim, a small, pink square of a drive?
LaCie's obsession with design continues with its latest offering, a portable drive styled by none other than Philippe Starck, he of 1950s-space-rocket-style lemon squeezer fame. Whether the man himself sketched out the LaCie Starck's contours and curves, leaving the filling in work to junior members of his studio a la Rembrandt, or did the lot himself, we can't say. Either way, this is not your everyday drive enclosure.
For starters, it's clad in a seamless oval of 2mm-thick gunmetal-grey aluminium. The surface is textured, but it has an odd finish that, to us, gives the product an almost unpleasant, dusty feel, though it's thankfully a very long way from the glossy black plastic fingerprint magnets that so many other drives sport.

No, the drive hasn't melted...
The front of the drive is shiny: a chrome-look warped panel that looks like it got too hot and melted. Round the back is the business end: the integrated USB connector and cable.