IBM shows flash of SVC inspiration
Dumps Fusion-io for STEC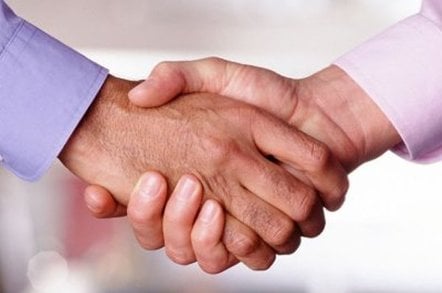 IBM has upgraded its SAN Volume Controller to use Nehalem (Xeon 5500) processors and STEC solid state drives, rather than the Fusion-io cards that were demonstrated in the million IOPS QUicksilver project.
The SAN Volume Controller (SVC) is located in a storage area network (SAN) fabric and virtualises IBM and certain third-party storage arrays attached to the fabric, providing a thinly-provisioned single pool of storage.
SVC version 5.0 adds both 8Gbit/s Fibre Channel and iSCSI support, opening the way for later Fibre Channel over Ethernet (FCoE). Cache per engine triples to 24GB. There can be from one to four SSDs.
Barry White, an IBM Master inventor at Hursley in the UK, blogged about this: "What may surprise some is that this isn't done using the FusionIo ioDrive cards that we used in Quicksilver, but with STEC's... 2.5 inch SAS ZeusIOPs drives."
Why choose STEC ones?
"There were various reasons for switching ... a hot pluggable drive is much easier to service than an internal PCIe adapter (when it comes to a 24x7 enterprise storage system anyway). The STEC drives also offload all of the 'Flash Management' required by enterprise-class SSD's (the garbage collection of old no-longer active copies, the wear levelling, the collation of writes, etc.) into the device itself. With the ioDrive we were consuming at least 2GB of system memory and an entire core on the nodes, just to run their kernel mode equivalent functions."
"The other main reason to switch between an ioDrive and ZeusIOPs device was form factor... space is at a premium and so we only have two available PCIe slots. This would only allow one PCIe-based SSD, verses the multiple 2.5 inch drive bays."
The SSDs are connected via a high-performance SAS HBA developed by IBM. The overall result is that SVC v5.0 runs up to 800,000 IOPS with a 1ms latency, twice the existing SVC node throughput.
SAN Volume Controller 5.0 will be available on November 6, with a US starting list price of $40,000. ®